Where has the time gone?!? We've been at the Horizon Resort and Spa for 3 days already, and it's been an amazing stay thus far. Everything here is here just as we saw on photos (if not better), the hotel employees are ultra friendly and helpful, and the scenery, beach, and ocean is just fantastic.
Being here, it's like being in paradise - all my normal, daily chores, job commitments, work stress, all thrown out the window. Being here makes you forget all of that. Staying at the Horizon Hotel, I pretty much lost track of time, and yeah, I admit, I was really lazy to even turn on my laptop to make any blog entries, until now. ;) And as I write this blog entry, it dawned on me that today is our last full day here! We will be heading out tomorrow noon.

Another Relaxing, Funfilled Day at Horizon Resort Hotel
We had breakfast at one of the 3 breakfast restaurants at the Horizon Resort Spa. All 3 restaurants serve the same meals - the only reason there are 3 serving breakfasts is so that there's enough room to seat all the customers. The breakfast every morning is a buffet serving both Chinese and Western foods. There were western foods such as milk and cereal, sasuage, eggs, pancakes, bacon, bread, salad, and cheese. Chinese items included congee, stir fry vegetables, Chinese buns, noodles, dumplings, and more. Of course, not having had much western food for almost an entire month, both my wife and I were craving for a good bowl of cereal, bacon, and all the other goodies we take for granted in Canada.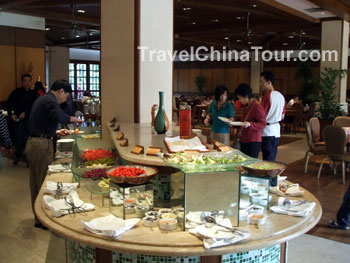 One of the buffet tables at the breakfast restaurant.
The Breakfast costs about $150yuan per person, after the 15% service charged is included. After breakfast, we went for a leisurely walk in the beautiful gardens of Horizon Resort Hotel, and along the beach. By then, lunch time rolled around, and we had lunch at the Coco Hut restaurant at the Horizon Resort, which apparently has the exact same menu as the other Chinese restaurants in the Hotel.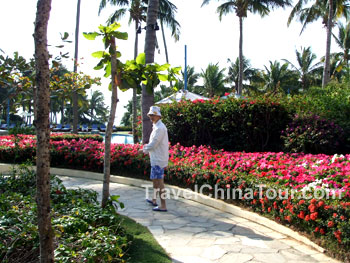 Enjoying a walk through the gardens of Horizon Resort & Spa.
I suppose all the same type restaurants here serve the same food, but just spread out throughout the hotel, since it's a huge resort. We had Jiaji Roasted Duck, stir-fried Wenchang Chicken with black bean, and a vegetable dish. Lunch cost a little over $250yuan.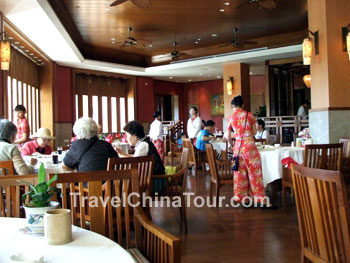 Lunch at the Coco Hut restaurant at the hotel.
Sanya Yalong Bay Horizon Resort & Spa Ocean, Beach, and Swimming
I went for my daily dip in the private beach of Horizon Resort. All (most of) the hotels in the Yalong Bay area has their own private beach where their guests can enjoy swimming and various water activities. These past 2 days has been quite windy, and the wind rating has been a 3 or a 4 scale (or so I was told), so the waves has been quite good. The sun is shinning, and the sky is a beautiful blue, with few clouds scattered in the sky. The beach has perfect sand, and the ocean water is superbly clear. Everything here is perfect.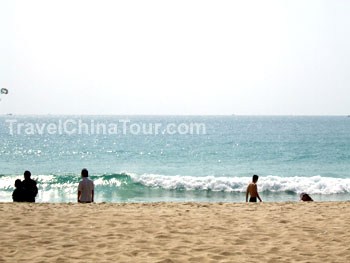 Beautiful weather, beautiful beaches, awesome waves, silky soft sand, what more can I ask for?
After my swim, I headed back to our hotel room, and here I am, sitting, writing this, and moping at the fact that this is my last full day here...