We went to McDonald's near Sanya city center for lunch around 12:30pm, then we took a walk around the shopping street right beside the central Sanya bus station. There are many clothing stores on that street, and in the middle of the street are kiosks selling all types of special Hainan products such as pearl necklaces, seashells, conchs, coconut art, and much more.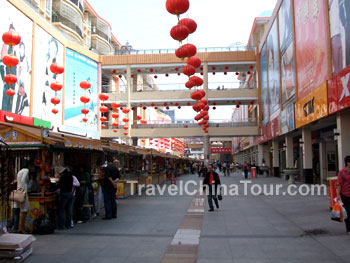 Shopping street beside the Sanya Central Bus Station.
Then we headed to the Yalong Bay TianYu Jiu Dian (Horizon Resort and Spa), the hotel where we will be staying the next 3 days. We had to go there to pay a deposit, and to also check out the hotel and its surroundings. Let's just say that I was really happy to have picked this hotel over Holiday Inn.

The Horizon Resort & Spa hotel is very nice. The hotel has about 800 rooms, has several swimming pools in the gardens, and has an amazing private beach available only to its guests. I paid for our ocean view room located on the 3rd floor, and the cost for 3 nights was about $5400yuan (about $700USD). It's pretty pricey, but I think it was worth it.
Amazing YaLong Bay Beaches
After booking our room, we went to the Sanya Zhongxing Guang Chang (Central Square), which is located at the center of the Yalong Bay. The cost to enter is $33 yuan, which includes a tour of the seashell museum. Afterwards, we went to the beach area of the Central Square. The beaches of Yalong Bay is amazing – the sand is pure, free of rocks and debris, and is silky smooth. The ocean water is clean, clear, and a beautiful blue color.

Seashells and conchs on display at the museum.
Here I thought that Xidao (West Island) beach was nice, but it's still not as nice compared to that of Yalong Bay. This is probably why there is a saying that Yalongwan is "Tian Xia Di Yi Wan", which can be translated as "The First Bay Under the Sky", or better understood as "The Best Bay in the World".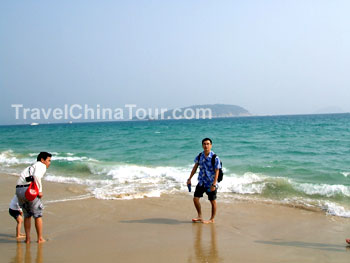 Walking along the Yalong Bay beach from Sanya Central Square.
There are also various water sports available in this area, such as sailing, water skiing, swimming, water parachuting, and more.
Crowded Yalong Bay Holiday Inn Beach
I looked down the east direction of Yalong Bay, and about 2km or so down the beach, I saw a huge crowd. Wondering what was going on there, a light bulb went off: "That must be the Holiday Inn beach!" I thought to myself "LOL, it's true what people were saying about Holiday Inn." I wasn't sure if it was Holiday Inn or not, so I decided to go for a walk along the beautiful Yalongwan beach.
As I got closer, I confirmed that it was the Holiday Inn, and the closer I got to it, the more crowded the beach got. I'm not sure why there are so many people there, but one thing for sure is that those people are not guests of the hotel. Almost every review I read online about this hotel complained about packed beaches. I think if you were paying about $1000yuan per night at a 5star hotel, you would expect to be able to enjoy the hotel's private beaches in peace. I suppose if you like crowded beaches, then this might be your cup of tea. Seeing this, I was sure glad I booked my stay at the Horizon Resort & Spa.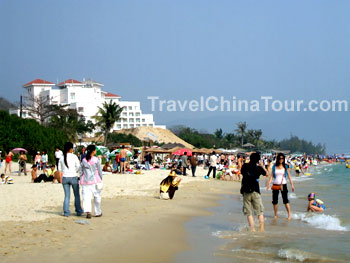 Big crowd at the beach by Holiday Inn. Not something I would enjoy.
After this, we headed back to Sanya city.