Shanghai is truly a fascinating city to visit and tour. its located in east China on the Yangtze River estuary. Shanghai city has a population of almost 19million, and is the 2nd largest city by population in China. Shanghai has a land mass of 6,340 square kilometers, and is one of the four centrally administered cities in the country along with Beijing, Tianjin, and Chongqing.
Shanghai boasts many magnificent shopping malls, and is reputed as the "shopper's heaven", including shopping districts such as the pedestrian street on Nanjing road, the Yu Garden Bazzar, the 24 hour shopping center at Shanghai Railway station, the bustling Huaihai road, and the New Century Shopping Center in Pudong New Area.
Aside from tourism and shopping, Shanghai offers all types of delicious cuisines and top notch restaurants. You will find all types of foreign cuisine such as Korean, Japanese, Italian, and other Western style foods - you'll also find that Shanghai offers delicious foods from all the major regional cuisines in China such as cantonese, Szechuan, Fujian, Anhui, etc... (8 main Chinese regional cuisines explained here.)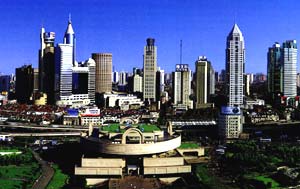 Shanghai CN Weather & Temperature
Shanghai city has a sub-tropical marine season climate, and there are four distinct seasons with abundant rainfall - the average annual rainfall is 120cm. Average temperature in Shanghai CN is 15.7 degrees, with the hottest temperature being 28 degrees in august, and the average temperature in January is 3 degrees. Shanghai has a rainy season ranging from mid-june to the first ten days of july, and hot summer follows the rainy season.
Shanghai City Tour Destinations
Shanghai is a metropolis of tourism, and a paradise for adventurers. In Shanghai, you can experience the new, the old, and everything else in between. You will find architecture built in different time periods, and built with different styles from around the world. Much of the old international settlements, european style buildings, and French Concession areas can still be seen. You will also see a city full of sky scrappers, and modern architecture.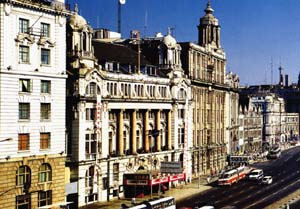 The Oriental TV Tower is the modern symbol of Shanghai. Located on the western bank of Huangpu River, the Shanghai Bund is lined with all types of European style buildings. Shanghai Museum is a treasure house of thousands of ancient Chinese art and relics such as pottery, paintings, and calligraphies. Built in 1882, the Jade Buddha Temple is one of the most famous temples in Shanghai. The Shanghai Ocean Aquarium is famous for its 115 meter long under water viewing gallery.
These and so much more, make Shanghai a vibrant and exciting city. Great food, fantastic scenery, friendly people, and interesting tour destinations make Shanghai a fun and energetic metropolis that you must visit.