On display at the second pit of terra cotta soldiers, are various well preserved artifacts and terra cotta statues. This second pit is a "L" shaped channel covering 6,000 square meters located 20 meters north of the first pit. This pit holds mostly infantry, calvary, war chariots, and archers. Unlike the first pit, the second pit has not been excavated nearly as much, and much of you see are broken terra cotta soldiers.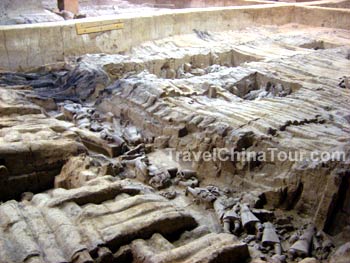 The second terra cotta pit.
This pit is believed to hold 350 chariot horses, 89 wooden chariots, 100 cavalry horses, and more than 900 soldiers. This group formation was devoted to protecting the flank of the vanguard force located in the first terra cotta pit.
The soldier encased in a glass display below is one that was found in the second pit, and it remains in excellent condition. He is in a ready position waiting to fire his crossbow at the officer's command. The terra cotta soldiers found in these pits are known to be armed with real weapons that are sharp and deadly. Numerous crossbows, arrow heads, swords, daggers, spears, halberds, and other weapons have been excavated from these pits.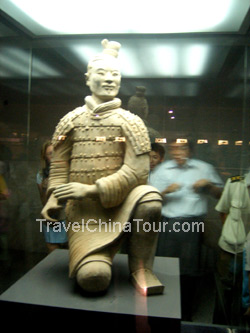 This soldier was one of the 160 kneeling crossbow archers wearing heavy armor in the first formation of soldiers in this pit, arranged in 8 rows of 20 soldiers. 70 more archers in standing position were placed behind this kneeling formation - where the 2 different shooting positions allowed the archers to fire alternating volleys.
Bronze Chariot From Mausoleum of Qin Shihuang
The bronze chariots were first discovered in 1978 when archaeologists found a gold ornament the size of a golf ball. By end of 1980, after 2 years of excavating, two entire chariots with horses have been uncovered. The pit holding these 2 chariots measured 2.3 meters wide and 7.5 meters deep.
Each bronze chariot is drawn by 4 horses. There is also a driver, which is made of solid bronze. The harness and reins are inlaid with gold and silver. The chariots measure 2.25 meters long - they are not made as actual life sized figures unlike the terra cotta soldiers. It is believed that they are about half the size of actual horses and chariots.
These 2 chariots are believed to be used for leisure rather than war, because they have a roof. The second chariot placed directly behind the first chariot is believed to be used by kings and nobles. Its roof is lower than that of the first chariot, and the occupant can only view outside through small windows on the sides.