Ocean Park is the largest amusement park in Asia, and is one of Hong Kong most popular tourist attractions. Ocean park is located on the southern side of Hong Kong Island with attractions built on both sides of the mountain, and is also one of the largest marine parks in the world with a total area of 200 acres. Cable car transportation linking to the lowland and headland sections provide a spectacular view of Hong Kong.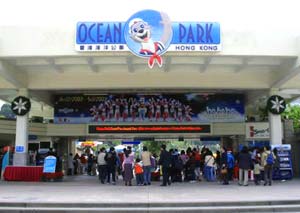 Ocean park provides exciting entertainment, education and also conservation facilities. Other than providing fun and entertainment to visitors from home and abroad, Hong Kong Ocean Park works to promote and support animal conservation. The park has conservation programs for a number of endangered species such as pandas, whales and dolphins.

Ocean park in Hong Kong - Pandas, Sharks & More
As you enter from the main entrance of Ocean Park, you will see the conservation square. There are about 40 attractions at Ocean Park, so be prepared to spend a good half day to all day here! Let's take a quick tour of some popular attractions.

Hong Kong Jockey Club Giant Panda Habitat
The HK Jockey Club Giant Panda Habitat opened in 1999 when Ocean Park received two giant pandas (An An and Jia Jia) from the Chinese government.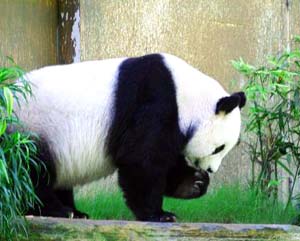 (Ocean Park Panda)
The habitat is 20 acres, and provides visitors a unique opportunity to visit the panda couple. Jia Jia (the female Panda) is a mother of 4 panda cubs.
Cable Car to Headland
Ocean Park is built on two mountains. The Ocean Park cable cars are the easiest way to get around. Enjoy your ride as the cable car takes you to the headland and enjoy a fantastic scenery and view.
Ocean Theatre Show
At the Ocean Theatre, you can watch different marine mammals showoff their tricks. Intelligent dolphins and sea lions perform fantastic tricks jumping, diving, and somersaulting.
Atoll Reef
Atoll Reef is one of the most popular attractions at Ocean Park Hong Kong. At the depth of the reef, you can discover an underwater world of over 250 species of fish, numbering in the thousands.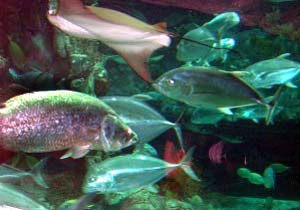 Shark Aquarium
Ocean Park also has an underwater view tunnel at the shark aquarium. Take a trip underwater, and come face to face with over 70 sharks. You'll also be able to see rare species that Ocean Park has been able to breed in captivity such as the Black Tip reef shark and the Pygmy Swell shark.
Headland Rides
Headland has a number of thilling roller coaster rides to satisfy even the most adventurous tourists. Thrill seekers will get a blast from all the rides such as the Flying Swing, Eagle ride, and Crazy Galleon.
Escalator to Tai Shue Wan
This is the longest outdoor escalator in the world. It's 225 meters (738 feet) long, and will bring you from Pacific Pier to Bird Paradise.
When you're finished your day at the Ocean Park, you can depart from the Tai Shue Wan Entrance.