The history of Fujian Province dates back over 10,000 years. With a population of over 33 million, Fujian province covers an area of 120,000 square kilometers located in the southeastern region of China. There are 19 key national level historical sites in Fujian including Anping Bridge in Jinjiang, Hualin Temple in Fuzhou, Kaiyuan Temple, and the Qingjing Mosque in Quanzhou among others. Besides the 19 key national level preservation site, there are also 11 provincial level preservation sites.
Fujian province is blessed with beautiful natural scenery, and features many famous mountains and peaks including Wuyi Mountain, Mount Qingyuan, Wanshi Rock. Xiamen and Gulangyu island are listed as national key scenic spots.
Fujian Province
Fujian province has 31 national minorities including Han, She, Meng, Man, Hui, Gaoshan, and more. The She nationality in Fujian province makes up almost half of the entire She nationality population in all of China.
Fujian is one of the key tea producing location in China. The warm climate of the province makes it an ideal area to grow all types of teas. Fujian province is the birthplace of red tea, white tea, black tea, and jasmine tea.. You can learn more about Fujian tea here.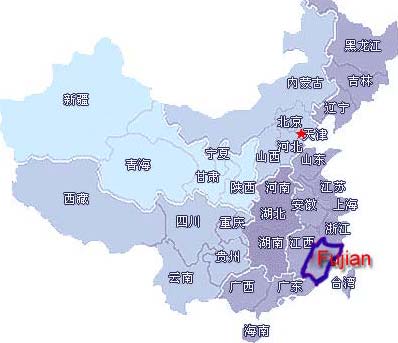 Buddhism, Christianity, and Islam all have deep roots in Fujian province. Fujian province boasts 14 of 142 key Buddhist monasteries in China. The Qingjing Mosque is one o the most ancient Islamic mosques in China.
Fujian is a relatively wealthy province of China. It's a large producer of rice, sweet potatoes, varieties of tea, wheat, barley, sugar cane, and is also one of the major producers of Longan and Lychees. Because Fujian province has over 3,300 kilometers of coastlines, seafood is another major food production area - especially shellfish.
Fujian Economy and Language
Xiamen was one of the first cities in China classified as an Economic Zone for development, and a large portion of investments made in the provinces comes from Taiwan due to its close proximity. In December of 2008, a direct transport route was opened up with Taiwan - direct flights from Taiwan to major Fujian cities commenced, and major ports in Xiamen, Quanzhou, and Fuzhou will upgrade the port infrastructure for increased economic trade with Taiwan.
The official language of Fujian province is Mandarin Chinese, just like the rest of China. However, Fujian province is one of the most linguistically diverse regions of China. There is a famous local adage that says: "if you drive more than five miles in Fujian the culture changes, and if you drive more than ten miles, the language does." In general, most dialects of of Fujian province are put in a broad Min category, then subdivided into Min Bei, Min Dong, Min Zhong, Min Nan, Pu Xian, and Shao Jiang.