Guangdong Province is located in southern China. It borders Fujian province to the northeast, Guangxi to the west, and Hong Kong and Macau SAR to the south. Guangdong province is situated along the South China Sea, and has over 4,300km of coastline. Guang Dong covers an area of over 180,000 square kilometers, and with a population of 110 million, Guangdong became the most populated province in China. The figure includes 79 million permanent residents, and 31 million migrants who has lived in Guangdong Province for over 6 months.
History of Guangdong China
The history of Guangdong Province dates back over 2,500 years. The province was located far away from the center of ancient Chinese civilization in north China plain, and it was populated by the Bai Yue people. Chinese administration of the region began during the Qin Dynasty, after establishing the first unified China.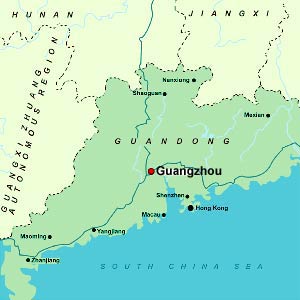 (Guangdong Map)
The region was made into its own province in 226. As time passed, the demographics of Guangdong province shifted to a Han Chinese dominance due to migration from the northern regions. During the invasion of Mongols in the 13th century, the Southern Song Dynasty retreated south to Guangdong, and during the Yamen battle in 1279, the Song Dynasty ended. The modern day name "Guangdong Province" was given during the Ming Dynasty.
During the 19th century, Guangdong was the main port of exit for Asian laborers to the united states, and north america. You may be interested to find out that although Cantonese is spoken by less than 10% of the population in China, it is the dominant dialect for Chinese communities overseas.
Guangdong Weather & Climate
The province has a subtropical climate. The summer is as long as 6 months, and can be hot. It's rainy all year around, but the main rain season is between april and september, and Guangdong province receives 150 to 200 centimeters of rain each year. The annual temperature averages between 19 to 26 degrees Celsius.
Guangdong Tourism
Guangdong province is an exciting place offering plenty of tourism attractions. The four famous mountains: Danxia, Xijiao, Luofu, and Boluo mountains are unique natural sceneries. The rich history of region - such as the opium wars, rebellions, and battles - provides a glimpse into China's tumultuous past. You can visit the Sun Yat Sen memorial hall, the ancestral temple of the Chen family, Six Banya Trees temple, the Nanyue Museum of Han Dynasty king, and so much more...