Fuzhou city has a history of over 2,100 years, and it is a coastal city situatted by the East Sea. Fuzhou city covers an area of about 12,000 square meters and has a population over 6.6 million people. Three hills known as the Yu, Wu, and Ping Hills form a triangle inside the city. The Min river also runs through the city.
The Jasmine flower is the symbolic flower of Fuzhou city while Banyan trees are the trees of the city. Since the Song Dynasty (960 - 1279), Banyan trees have been planted all over Fuzhou city, giving the city the name "Banyan City" (Rong Cheng).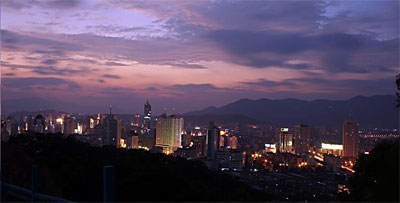 In 1984, Fuzhou was designated as one of China's open cities with open-door policy of inviting foreign investments. The city's main economic industries include industrial chemicals, printing, textiles, papermaking, timer, steel, and engineering.
Fuzhou Weather & Climate
As Fuzhou is a coastal city bordering the East China Sea, it has a warm and sub-tropical climate with plenty of rainfall anually. It has a mild temperature average about 19.6C. Temperatures peak in the months of July and August. The summer months are also typhoon season and can experience some heavy rainfall and storms. Temperature is mild in the fall season, and cooler in winter. However, being a coastal city keeps the winter months relatively warm between temperatures of around 10C (50F).
Best time of the year to visit Fuzhou would be in the fall season when the temperature is mild and there's little risk of running into heavy rainfall and thunder storms. But overall, Fuzhou is a city that is suitable for touring all year long.
Fuzhou Drum Mountain (Mount Gu)
Gu Shang, or Drum mountain, is a major scenic attraction of Fuzhou city. Drum mountain has had a long history of being praised as one of "the two scenic beauties of Fujian Province". It is situated 10 kilometers southeast of the city. Hlaf way up the mountain is the Gushing Spring Temple where Emperor Kangxi (1654 - 1722) of the Qing Dynasty made the inscription: "Gushing Spring Temple". From the Gushing Spring Temple, a path leads to the peak of the Drum mountain.
In front of the Temple are two pagodas made around 1,080 during the Norther Song Dynasty. Each pagoda has 4,038 figures of Buddhas and 72 monks and warriors. There is also a 2,145 step path that leads down to the base of the mountain.