Quanzhou city was established during the Tang Dynasty in the early 700's, which would later become China's largest seaport. During the Song and Yuan Dynasty (960 - 1368), Quanzhou was one of the world's largest seaports, and it hosted a large community of foreigners. Quanzhou has also been referred to as the starting point of the silk road by sea. Quanzhou borders Putian City to the north, Taiwan Straits to the East, and Xiamen city to the south
Quanzhou covers an area of over 11,000 square kilometers, with a population of over 7.5 million. Because of its advantageous location, the city has become one of the largest seaports, and has become a multi-cultural and multi-religion city. Cultures from all over the world have mixed here and co-existed for thousands of years.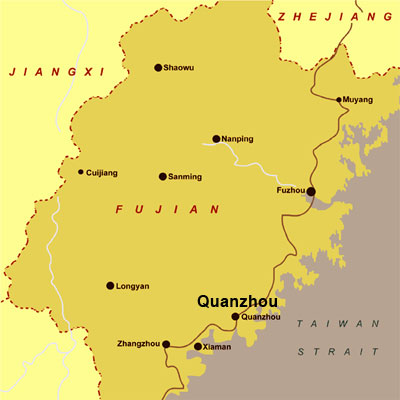 Quanzhou Weather and Climate
Quanzhou has a tropical climate with average temperature ranging around 19C. The climate is mild with warm winters where temperatures get to a low of around 9C, and summer temperatures can get to highs of 33C. Because it is a coastal city, Quanzhou is affected by the monsoon as well with some thunder storms.
Quanzhou Tour Destination
Quanzhou boasts many ancient and historical sites. The Kaiyuan Temple was first built in 686 during the Tang Dynasty. It covers an area of over 33,000 square meters, and is the largest Buddhist temple in Fujian Province. The Kaiyuan Temple is a major historic site with a history lasting over 1,300 years.
The Qingyuan Mountain, also known as North Mountain (Beishan), is located just 3 kilometers to the north of Quanzhou. Its natural beauty and scenery has attracted tourists from far and wide. The Luoyang Bridge is one of China's earliest stone bridges that spans the Luoyang River. This bridge was built in 1053 and is one of the most famous ancient bridges in China.
Qingjing Mosque was first built in 1009 during the Song Dynasty. It was designed after the mosque in Damascus, Syria. It is built with pure granite. It is located on Tumen Street in Licheng district, and it is one of the oldest Moslem buildings in China.