Wu Liang Ye wine factory is located in Yibin, the wine capital of Szechuan province. Yibin is located at the crossing point of Min river and Jinshajiang river. Wu Liang Ye is one of the largest wine makers in China, and its WuLiangYe wine is sold in over 100 countries. The company grosses over $1 billion RMB in sales each year.
I was in Yibin city, and went for a tour of Wu Liang Ye wine factory. At the main gates, the road is extremely wide. On one side, you'll see a huge billboard with the Wu Liang Ye name and logo with a carving of several people placed in the middle of a wheat (or hay) back ground. See photo below: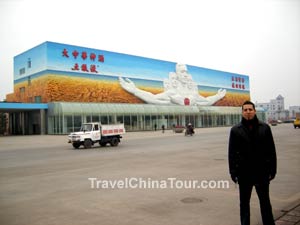 Across the street from this billboard, is a large office building - probably the administrative departments are housed here. In front of the building is a large metal statue of many heads - although i'm not quite sure what they symbolize. See picture below: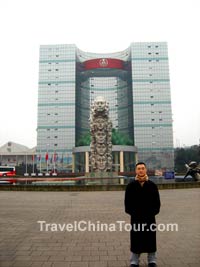 The Wu Liang Ye wine factory campus is rather large, and on foot, you can expect to spend a good 2 to 3 hours touring around. At the front gate entrance, they do provide tour car rides that charge $20 yuan. We managed to get ourselves lost in the campus, and ended strolling into "visitor prohibited" areas, where actual manufacturing was taking place.

A photo taken inside the Wu Liang Ye factory campus. It's a statue of three ancient men enjoying the wine. There's a story written on the wall behind me, but i can't quite read that type of writing.