So far, there are four pits of Terra Cotta army discovered. Below is a brief overview of each pit discovered.
Pit #1 - 6,000 Terra Cotta Warriors (1974)
Pit #2 - 1,400 Terra Cotta Soldiers, 64 Chariots (1976)
Pit #3 - 68 TerraCotta Warriors, 1 Chariot (1980)
Pit #4 - Empty (Qin Shi Huang died before its completion)
Tour TerraCotta Pit #1 to 3
The terra cotta army was first discovered by 9 farmers digging a well in 1974. When this entire area was uncovered, there were 6,000 terracotta warriors and horses placed in battle line formation. The first site measures 210 meters long, 60 meters wide, and 4.6 to 6.5 meters high. The vanguard of this army is made up of 3 rows of 70 soldiers, and the main body consists of 38 rows of troops.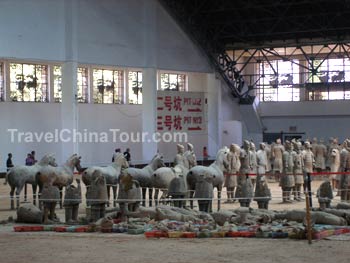 (Picture taken from Pit #1 of the TerraCotta Army)
The second pit was discovered in 1976, which contains 1,400 terra cotta soldiers and 64 chariots in a square battle formation.This second pit is about 20 meters east of the main pit, and covers 6,000 square meters. This pit is divided into four sections:
First section - 334 terra cotta archers armed with crossbows lined up in 8 clusters. 160 soldiers in heavy armor line up in front of them in a kneeling position
Second section - 64 chariots
Third section - 19 chariots and 100 warriors placed at the center of section #2
Fourth section - 124 terracotta calvary men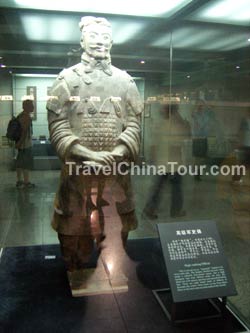 (Picture of a TerraCotta General)
The third Terra Cotta pit was found another four years later in 1980, but this was a rather small pit containing only 1 chariot, 68 warriors, and some weapons. This pit is 25 meters north of the first pit, and is believed to be the headquarters of the Qin TerraCotta army.
Aside from these three pits, there is a fourth pit, which was empty, and it's thought that Emperor Qin Shi Huang died before its completion.