JuYongGuan Pass was built in 1368, and along with Zijing and Daoma passes, they form the "Inner three passes" of the Chinese Great Wall. The Great Wall at JuYongGuan pass is close to 8.5 meters high, 6.5 meters wide at the base, and 5.7 meters wide at the top.
JuYongGuan pass is a key gateway leading to inner Mongolia. JuYongGuan pass opened to tourism in 1998 after a five year renovation. Its located in an 18 km stretch of valley named "Guangou", about 50km away from Beijing city. In the 13th century, the calvary of Genghis Khan swept through JuYongGuan Pass.
Entering JuYongGuan pass, tourists will see an ancient platform made off marble called the Cloud Terrace, and was built in 1345. The cloud terrace is 9.5 meters high, 26.8 meters wide, and 17.6 meters long. Recommended time for visit is 2.5 to 3 hours.
Jingshanling Great Wall Tour
Further away from Beijing City, about 140km north east of Beijing city, is the JingShanLing Great wall section. From the east, JingShanLing connects to Simatai Great Wall section. Original construction began in Ming Dynasty, and the length of this section is about 11km.
Similar to other sections such as Badaling and JuYongGuan, Jingshanling Great Wall is over 7meters high, and 5 to 6 meters wide. Because of the traveling distance to JingShanling Great Wall, there are fewer tourists compared to Badaling.
Simatai Great Wall
Simatai Great Wall lies east of Jingshangling. The walls at Simatai does not receive the restoration efforts like that of Badaling or Mutianyu, so you get a realistic look at the authentic Great Wall 500 years after it was built during the Ming Dynasty. Simatai Great Wall is located about 130km north east of Beijing.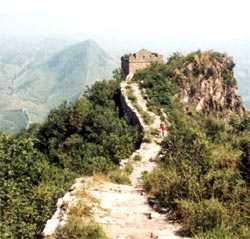 SimaTai Great Wall Photo: As you can see, the Great Wall at Simatai has not been renovated like Badaling or Mutianyu - so the wears and tears of over 500 years is very apparent.
Jiayuguan Pass
Jiayuguan pass is located southwest of Jiayuguan city in Gansu Province. Jiayuguan pass was built during the Ming Dynasty in 1372. The total length of the city wall is 733 meters and 11 meters high, with one gate located on the east side, and one gate on the west side.
Jiayuguan pass is the western end to the Great Wall, and has earned the name "First and Foremost Pass Under Heaven".
Final Great Wall Tour Tips
While there are rail carts to bring you up to the top of Badaling Great wall, it's still physically demanding to climb the Great Wall of china - especially in mid summer at noon when the sun is up high and temperatures can go above mid 30's.
Wear runners
Bring a light backpack to hold your miscellaneous articles
Bring plenty of water - while there are vendors at the entrance and exit of Badaling, there's none on top of the Great Wall, so have some water ready when you're up top
If the sun is a problem for you, bring some sunscreen lotion, or bring an umbrella - may sound silly, but many people do bring umbrellas in mid summer to block out the sun (I do too!)
Wear lose and comfortable clothing
Don't forget your camera!