Shanghai is world famous for being a metropolis of three key interests: businesses, shopping centers, touring and sight seeing. But the city was not always like that.
6,000 years ago, Shanghai's location was the site of the Songze Culture. The earliest ancestors of Shanghai people are born here, and the site lies just west of the Shanghai Hongqiao Airport.
During the period of the warring states (475 - 221 BC), the state of Chu gave this piece of land to Prince Chun Shen, and at that time, it was named "Shen". Several hundred years later, this piece of land became a fishing village during the East Jin Dynasty (317 - 420 AD). A local official named Yu Tan built a fishing facility, and the place was known as "Wu" at that time.
The name "Shanghai" first appeared in 960, and in year 1290 of the Yuan Dynasty (1271 -1368), Shanghai was formally built into a city. By the time of the Ming Dynasty (1368 - 1644), Shanghai began to flourish with the backing of its seaport - it became known as the "bustling port and grand metropolis in the southeast". In 1554, a 7 meter high city wall was built.
By the 17th century, there were signs of growing wealth in Shanghai. After the first opium war (1840 - 1842), foreign settlements from Britain, America, France, and Japan appeared one after another. After the opium wars in 1843, Shanghai was forced to become an open trade port. In 1927, the city became a special municipality under the Kuomingtang regime. In 1949 after founding of the People's Republic of China, Shanghai became one of the municipalities directly under the central Government.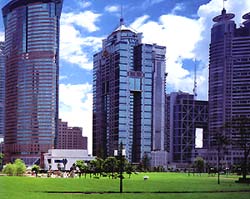 Shanghai Today
Today, Shanghai is a dynamic city going through dramatic changes year after year. In 2002, Shanghai began construction of a new deep-water container port. The new port allows access of container ships that can carry between 5,000 to 6,000 20-foot containers. Shanghai is also the only city in China with two international air ports, with the annual capacity to handle 100 million passengers.
The Shanghai Maglev Train is the world's first magnetic levitation train. The 30km trip between Longyang Road Station and shanghai Pudong International Airport takes only 7 minutes. The Maglev train has top speed of 430 km/hr.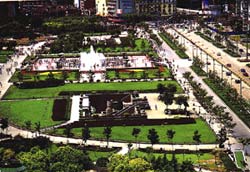 The Oriental Pearl TV Tower is the highest in Asia, and 3rd highest in the world. It's 468 meters high, and visitors can enjoy a panoramic view of the city. There's so much more to Shanghai than listed here such as the Jade Buddha Temple, Yu Garden, Shanghai Museum, Shanghai Concert Hall, Shanghai Ocean Aquarium, the Bund, and much more.