The Terra Cotta army and soldiers discovered near Xian was the creation of emperor Qin Shi Huang, who was the first emperor of a unified China in the 200's BC. Qin Shi Huang lived from 259 to 210 BC, and reigned from 246 to 210 BC. He became king at age thirteen, and campaigned for 10 years from 230 to 221 BC to annex the other six independent states.
During his reign, Qin Shi Huang standardized the currency, created a uniform law, standardized weights and measurements, and also designated the written language. During that time, he also connected all the walls built by the independent states to create the Great Wall of china.

The Mausoleum of Qin Shi Huang was built in the third century, and covers over 56 square kilometers. It is fortified with gates, watch towers, and turrets. According to historical records, construction of the tomb took 36 years, and required the labor of 700,000 people.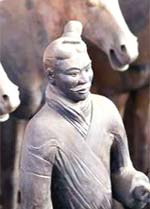 Unique Terra Cotta Soldiers
Of the 8,000 terra cotta soldiers, no two soldiers have the same face and features. Each figure has different hair style, expression, and facial features. See pictures of the Terra Cotta warriors above and below: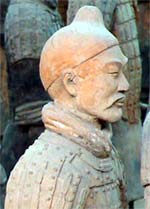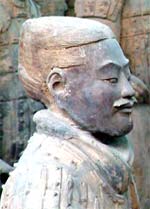 (Picture of TerraCotta Warriors: Notice the difference in hair, eyes, eye brows, facial hair, and shape of the face and jaw line.)
The life sized warriors were dressed for battle, and are equipped with various weapons such as spears and swords. Each soldier stood 1.8 meters tall, and wears an army uniform distinguishing their rank. This Terra Cotta army is a slightly idealized representation of the Qin army at that time. The TerraCotta soldiers were originally painted with bright colors, but after 2,000 years being buried underground, most of the paint has peeled away. It is also believed that the artisans created some of the terra cotta soldiers after live model warriors.