The famous Ocean Park is located in the southern district of Hong Kong. It is a very popular destination in the city, especially for those who are travelling with children. However, the park offers enough incredible animals, rides, and shows that you will have fun there no matter your age.
The park, built with donations from the Royal Hong Kong Jockey's Club, opened its doors in 1977. Forbes ranked it the seventh among the world's most popular amusement parks. More than four million people visit each year, and that is not without good reason – there are tons of great things to see and do! The park's mascot is named Whiskers, a cartoon sea lion.

Besides the theme park, a number of observatories and laboratories are housed on the grounds. These are instrumental in the study and conservation of a number of different species. Researchers at the park have been able to create a number of different breeds of goldfish, and they were the first that artificially inseminated bottle-nosed dolphins with success.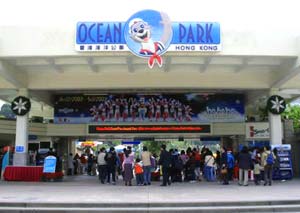 Still, the reason that Ocean Park is so popular is because of all the great animals and rides.
The park is separated into a variety of different areas, all with something special to offer. Do yourself a favor and visit them all.
In the Headlands, you will find some great rides that will make your heart pump. One of the most popular is the Dragon, a roller coaster that will speed you through twists, turns, and loops. Also a favorite is the Abyss, a freefall ride that you won't soon forget. You should also try out the Crazy Galleon and the Ferris wheel.
In Adventure Land you can hop aboard the Mine Train, which is full of twists and turns, or try out the insanely fun Space Wheel. You'll find plenty of rides to like here.
Marine Land is the heart of the park, and here that you will find all of the different marine creatures that make the park their home. Watch the sea lions or take a walk through the amazing shark aquarium.
Birds Paradise is home to a number of flamingos as well as a host of different birds in the aviaries. If you are a bird lover, you should definitely check it out.
In the Lowland Gardens you will come across some giant pandas, trek through a replica of the Amazon, and then take a balloon ride at the Skyfair.
Kid's World has rides just for the little ones, as well as some great shows that the whole family can enjoy.