The 97km long Huangpu river is Shanghai city's shipping artery to the east china Sea and to the mouth of Yangtze River. The river joins 29km north of downtown Shanghai, and divides the city into the east and west sections. On the west shore of Huangpu River is the world famous Shanghai Bund, and on the eastern shore is the Pudong New Area.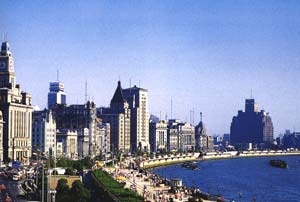 Huangpu River is lined with wharves and warehouses providing access to shipping vessels. The port here handles cargo coming from the interior cities such as Nanjing, Chongqing, and Wuhan - about 1/3 of China's trade with the world takes place here. The river is also a major source of water for Shanghai.
Shanghai Bund - The Bund
The Bund (waitan) is the symbol of Shanghai, and its a must see for all visitors to Shanghai. A wide street curves along the western bank of the Huangpu river, and along the street are old style european and western buildings. The bund is one of the most famous architectural symbols of Shanghai, and has been called the museum of international architecture.
The Shanghai Bund extends from Jinling Road in the south to the Baidu bridge over Suzhou Creek.
The Bund was the site of some of the earliest foreign settlements in Shanghai. Built in the 1930's, there are probably about 3 to 4 dozen building structures constructed along the 1.5km stretch of the Shanghai Bund. All of them are built with western and european styles such as Gothic, classical, Romanesque, and renaissance. It was here that the international banks, businesses, hotels, exclusive clubs were located.
Walking along the Bund, you will see an amazing contrast of the old and the new Shanghai. On the Shanghai Bund side, you will see old style architecture well preserved from the 1930's, and just across the Huangpu River, you will see the newest sky scrappers of the Pudong New Area - you'll also get a fantastic view of the Oriental Pearl TV Tower. As one of the top ten attractions, you should definitely take a tour of the Bund in Shanghai.