In 1974, a group of farmers working the fields near the tomb of Emperor Qin in Xian, Shaanxi Province came upon an incredible discovery. The found terracotta statues of warriors who appeared to be dressed for battle. Soon, more and more of these figures were unearthed and the Museum of the Terracotta Army opened in 1979.
To date, more than 8,000 clay warriors and horses, along with over 10,000 bronze weapons, have been unearthed. These figures date back to around 210 BC. Great numbers of workers were used in the construction of these figures so long ago. The crafters were very skilled, as these statues have a very lifelike appearance. In fact, they were once fully painted and from a distance, they would have looked much like a real army.
The arms, legs, torsos, and heads were created separately and then assembled, possibly for ease of transport. The creation of these statues was an incredible undertaking that likely took some time to complete.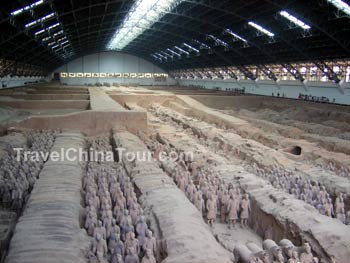 The purpose of the clay army was as a type of funeral art, and they were supposed to help the Emperor forge a new kingdom in the afterlife. The army, with swordsmen, archers, horses, and chariots, is now situated in several different pits that you can visit. Over the years, the statues have suffered some degradation, but are in remarkably good condition for being more than two thousand years old.
Besides just the pits containing the clay figures, there is also and exhibition hall, a cinema, and an information center. You will be able to learn quite a bit about the history of the Emperor and the creation of these figures while at the museum. You can even get a good look at the bronze weapons that the clay statues once held in their lifelike hands.
The movie that plays on site is about twenty minutes long and goes deep into the history of the area and Emperor Qin and his incredible Terracotta Army. The knowledge you gain from the film makes the rest of your tour all that much more impressive, so don't miss it.
It is known as one of the Wonders of the World, and UNESCO has declared it a World Heritage Site. This museum is one of the most interesting places to visit in all of China, and you should do everything you can to fit it into your itinerary. It is the main touristic spot in Xian.
Related Articles: