Xian city is a part of Shaanxi province in China, located in the middle section of the Yellow River. Xian is also one of the earliest establishments in China history, (you could say it's one of the birthplaces of the Chinese nation) with a illustrious history of over 3,100 years. The city was originally named Changan (eternal peace), and the city later changed its name to Xian.
Today, Xian is a world famous tourism city offering tourists a rich selection of historical artifacts and cultural relics. Visiting sites such as the Terra Cotta Warriors and Horses, the Banpo Village remains, and the Mausoleum of Emperor Qin Shi Huang, you can really get a glimpse into Chinese civilization's long and rich history.
History of Xian, China
As mentioned earlier, Xian (historically known as Changan) has a long history of over 3,100 years, and this city has been the capital city for 13 ancient Chinese Dynasties. These dynasties include:
Western Zhou (1046 - 771 BC)
Qin Dynasty (221 - 206 BC)
Western Han (206 BC - 25 AD)
Xin Mang (8 - 23 AD)
Western Jin (265 - 316)
Early Zhao (319 - 329)
Early Qin (352 - 394)
Later Qin (386 - 394)
Xia (407 - 431)
Western Wei (535 - 557)
Northern Zhou (557 - 581)
Sui (581 - 618)
Tang Dynasty (618 - 907)
During this long period of time, Xian (Changan) served as the cultural, economical, and political center for China.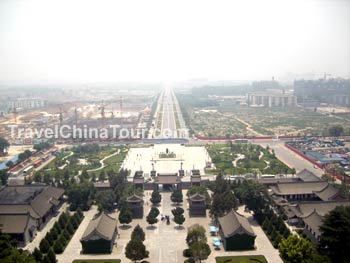 Xian Tour Attractions - Travel Xian
Xian is the eastern departure point of the famous silk road. The city attracts over 10 million tourists each year, and tourism has become a main industry of the city. One of the most famous tour attractions of Xian is its Terra Cotta warriors, which was discovered in 1974 by several farmers. This is now known as the mausoleum of Emperor Qin Shihuang, and has been named the eighth wonder of the world.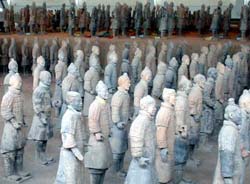 The Xian city walls is another famous and popular tour attraction. The city walls were built in 1374 to 1378, runs 3.4 km east to west and 2.6 km north to south, and has a perimeter of 14 km encompassing an area of 11.5 square kms. The forest of stele is a collection of over 1,000 inscribed stone monuments that were created from the Han Dynasty to the Qing Dynasty over a period of 2,000 years. These steles contains all forms of ancient Chinese calligraphy.
Xian city offers many amazing tourist destinations that will sure leave you with unforgettable memories. Some of the most popular and worthwhile tours include: the Banpo Museum housing the ruins of Neolithic matriarchal commune village over 6,000 years ago; the Big Wild Goose Pagoda which is one of the most famous Buddhist pagodas in China; the massive City Walls of Xian stretching over 14kms; the Bell Tower which was used to report time in ancient times; the Mausoleum of Emperor Qin Shi Huang referred to as the 8th wonder of the world; Xian's forest of steles housing ancient Chinese Calligraphy through 2,000 years. All these tourist attractions and so much more will keep you entertained, and leave you breathless. It's not often that so much history and ancient culture is so well preserved, and you can experience all that firsthand!