Wong Tai Sin Temple is the most famous temple in Hong Kong. The temple was built in 1921, and cover 18,000 square meters. If you have some wishes you want fulfilled, then make a trip to Wong Tai Sin Temple. The temple is also called Sik Sik yuen.
The temple commemorates a famous monk named Huang Chu Ping. Born around 328 AD, he began practicing Taoism at age 15, and achieved enlightenment after forty years. After that time, he was called Wong Tai Sin. In 1915, a Taoist named Liang Ren An brought a sacred portrait of Wong Tai Sin from Guangdong to hong Kong, and it was then this temple was built dedicated to Wong Tai Sin.
Wong Tai Sin Temple Fortune Sticks
Wong Tai Sin temple preaches three religions - Taoism, Confucianism, and Buddhism. The temple is also well known for its fortune telling. Wong Tai Sin fortune sticks are very accurate, and many visitors come to the temple to have their fortunes told.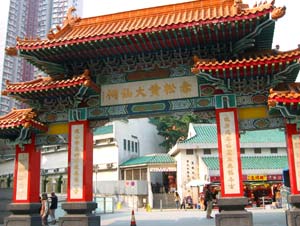 What you do is kneeling before the main altar, shake a bamboo cup containing many fortune sticks. You keep shaking until one falls out, and you then exchange this stick for the corresponding piece of paper, and a soothsayer will interpret the fortune written on the paper.
The Wong Tai Sin Temple is built with traditional Chinese architecture with large red pillars, yellow latticework, golden roof, and multi colored carvings. The major feature of the main altar is where the portrait of Wong Tai Sin is hung. Here, visitors can pray for guidance and good fortune. If you have wishes you want fulfilled, you can make a sincere prayer here.