Known as "The Peak," Victoria Peak in Hong Kong is a 1,800 foot mountain that all visitors should visit during their trip to Hong Kong. Although much of beauty, including the extensive homes, is at the top of the mountain, half of the fun is the journey up The Peak courtesy of the cable tram.
The Peak Tram, which has been offering passengers a ride up the incredibly steep incline for 120 years. Although it began its first journey in 1888, the tram itself has undergone major changes over the years. Technological and programming advances have helped the Tram remain a reliable source.
The current system, which enables a microprocessor-controlled electrical system to operate the tram, includes functions like acceleration, deceleration, and station stops.
Since the late 1800's, when Governor MacDonnell built a summer home on top of the Peak and Peak Hotel was also built, many of Hong Kong's wealthiest residents have purchased property in the cooler, but humid climate of the mountain. The invention of the Tram helped increase the number of residential properties on top of Victoria Peak in Hong Kong, as well as the rise in commercial properties there as well.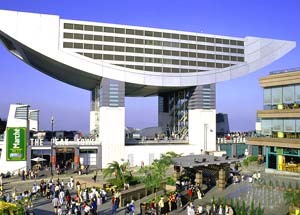 In fact, many of the most popular restaurants, shops, and entertainment can be found at The Peak. As you work up an appetite while exploring Victoria Peak, Hong Kong there is a number of restaurants that range from traditional Asian foods to modern dining options. Although there are many options in the area, Peak Tower is among one of the most popular choices
Additionally, you can spend your time at one of the many events or enjoying nature and the beauty of Victoria Peak in Hong Kong. One of the best parts of your visit will be from the top of the mountain. Once you are at the top of the Peak, you can catch a glimpse of the city and the harbor along with a number of other tourists and visitors.
When visiting Victoria Peak in Hong Kong during the day, you will be met with an astonishing view that will be remembered for years. But, if you travel closer to the evening and stay until the lights go on, creating a magnificent neon light show, you will witness a view that will stay with you for a lifetime. The difference is one worth experiencing to determine just how magical it really is.