In the 1st part, we covered Szechuan cuisine and Shangdong Cuisine. We'll briefly talk about the other six remaining famous Chinese Cuisines.
China Guangdong (Cantonese) Cuisine
Cantonese cooking is light and fresh tasting, and Cantonese restaurants are widely spread throughout the world, so it's a cooking style that westerners are familiar with. Guangdong food includes delicacies of Guangdong, Chaozhou, Hainan, and Dongjiang.
The most important aspect of Guangdong cuisine is freshness. Cantonese cooking uses cooking methods such as stir frying, grilling, stewing, soups, deep frying, roasting, and braising. A Guangdong specialty is roasted suckling pig - coated inside with fermented tofu, sesame paste, garlic sugar, and then roasted until the skin is golden red in color. The skin of the roasted pig are crisp and crunchy, while the meat is tender and soft.
Typical menu items include steamed fish, shark fin soup, roasted piglet, and dim sum. In western countries, dim sum is widely served in Chinese restaurants - its a style of eating that I enjoy very much. Dim sum involves picking and choosing from a variety of freshly cooked dishes either from a cart being pushed around the restaurant, or ordering from a dim sum menu (this depends on the restaurant).
Dim sum dishes are typically steamed, with some stir frying and deep frying. They come in a small saucer in a small bamboo steamer usually about 6 to 7 inches in diameter. Dim sum typically serve seafood, chicken, pork and beef. See picture below: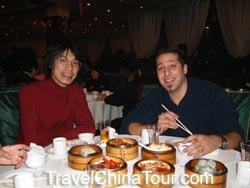 Sitting across from me: my brother in law and my Canadian friend who went on a trip to China with me. On our table are several bamboo steamers filled with dim sum dishes.
China Huaiyang Cuisine (Jiangsu Style)
The origins of Huaiyang cuisine can be traced back to about 300 BC. Huaiyang cuisine originated in Yangzhou. The most important patron of Huaiyang Cuisine in history was emperor Zhu YuanZhang (1328 - 1398). He was the founding emperor of the Ming Dynasty. He enjoyed Huaiyang (Jiangsu) cooking so much that he designated it as the imperial court kitchen in Nanjing, which was the first capital of the Ming dynasty. When the capital was moved from Nanjing to Beijing by the 3rd Ming emperor Yongle (1360 - 1424), he also brought the Huaiyang chefs and Cuisine with him to Beijing.
Huaiyang cuisine is popular in the lower regions of the Yangtze River, and its specialties are light flavored and fresh tasting. Jiangsu style cooking is also well known for its carving techniques, especially on melon carvings.
Fujian China Cuisine
Fujian cooking is a combination of Fuzhou, QuanZhou and Xiamen cuisine styles. Fujian cuisine emphasized seafood such as fish and shrimp. Its coastal areas product 160 some varieties of fish and 90 kinds of turtles and shellfish. These seafood products are widely used in Fujian cuisine. It was during the mid of Qing dynasty when Fujian cuisine gradually spread through other parts of china.
Since a majority of the dishes are made using seafood, cutting is a very important aspect of the cooking process. One of the most important dishes of Fujian cuisine is Buddha Jumping Over the Wall - a name implying that the dish is so delicious that a Buddha is jumping over the wall just to get it. Other famous dishes include: Snow Chicken, and Prawn with Dragon's Body and Phoenix Tail.
Hunan China Cooking
Hunan cuisine has a history of over 2,100 years. Hunan province is located in southeastern China, along the middle stretch of the Yantze River. Because of the humidity in Hunan, its food is spicy, and consists of more than 4,000 dishes.
Hunan cuisine cooking methods use stir frying, deep frying, steaming, simmering, stewing, and quick frying. Common Hunan dishes include Dongan Chicken, Peppery Hot Chicken, stir fried tripe silvers, duck web soup, lotus seed with rock candy, and hot and spicy frog leg.
Zhejiang China Cuisine
Zhejiang cuisine is well known for its fresh, tender, and fragrant dishes. Zhejiang cooking stresses the use of vegetables, mushrooms and bamboo shoots. The fish and shrimp are usually kept alive until cooked, so the food served are very fresh.
Zhejiang dishes come in a slightly sweet flavor and has less of a salty taste. Emperor Qianlong of Qing dynasty praised the Mandarin Fish topped with Sweet and Sour Tomato Sauce as the best dish in the world. Other famous dishes include West Lake Fish Steamed in Vinegar, and Braised shrimp served with Longjing Tea.=
Anhui China Cooking
Anhui cuisine (Hui Cai) is also one of the eight famous regional cuisines in China. Much of its cooking ingredients come from the mountain regions such as the famous Huangshan Mountain (Yellow Mountain). Anhui cuisine focus on the taste, color and the temperature at which the dishes are cooked at.
Anhui food is slightly spicy and salty. Popular dishes include stewed turtle with ham, Huangshan braised Pigeon, Stewed Fish Belly, Steamed Stone Frog, and Bamboo shoots Cooked with Sausage. Candied sugar and ham are often added to dishes to improve its taste and aroma.