The Huangqiongyu is a circular structure with a single-eave pyramid roof covered with blue glazed tiles. It stands on a 2.85 meter high round marble terrace. The structure itself is round, standing 19.5 meters tall, and 15.6 meters in diameter. It was used to house the tablets of the God of Heaven and tablets of the emperor's ancestors.
The Huangqiongyu structure is supported by 16 pillars - 8 of which prop up the eaves. On top of the pillars are gilded bracket sets that support the ceiling, which is constructed to taper little by little resulting in a flag cone shape. In front of the building, is a large stairway that has a large stone slab carved with 2 dragons playing with a pearl.
Connecting the two groups of main structures is the Danbiqiao. It is 360 meters long and 30 meters wide running from north to south. A small structure built on the side of the Danbiqiao is the Jufutai, a building for changing clothing - this was where the emperor had a short rest to change clothes before the worshipping ceremonies began.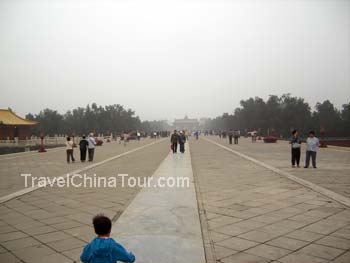 The DanBiQiao.
The Zhaigong (Palace of Abstinence) was where the emperor prepared himself for fasts before he offered sacrifices at important ceremonies. It was also known as the "Less Imperial Palace", surrounded by double enclosing walls and two wide moats. The moats were filled with water in ancient times; however they are empty in modern times as you can see in the photo below.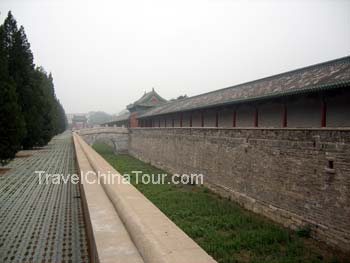 The Zhaigong - Palace of Abstinence.
This Temple of Heaven structure was built in 1420. The main hall of Zhaigong sits on a terrace made of white marble. The building itself is made of brick without any wooden beams or pillars - hence the building was known as the "Beamless Hall". The emperor conducted state affairs in this building during the fasts.
In front of the Zhaigong are two stone pavilions. The left one housed a bronze statue which reminded the emperor not to forget the rules and regulations of fasting. The right pavilion housed a tablet of the time marking times of the worshipping ceremonies, which was at 4 am in the morning.