Another popular tourist attraction at the Tiananmen Square is Chairman Mao's Memorial Hall. It was built in 1977, which covers an area of 57,000 square meters. If you do visit the memorial hall, please note that cameras are not allowed inside. (Click here to read About Tiananmen Square part 1)
The memorial hall has 3 stories. The first floor is divided into the Northern Hall, Southern Hall, and Hall of Mourning. Memorial activities are held in the Northern Hall, and houses a seated statue of Chairman Mao, carved of white marble. The Southern Hall leads to the exit. The main hall is the Mourning Hall where a black granite coffin bed which holds the remains of Chairman Mao wearing a grey suit, and is covered with the red flag of the communist party.
Great Hall of the People
Adjacent to the Tiananmen Square is the Great Hall of the People. It covers an area of 170,000 square meters and was built in 1959. This hall holds all the China National people's Congress meetings and also provides a meeting place for other political and diplomatic activities. It consists mainly of a 10,000 seat auditorium, and 300 reception rooms and conference rooms.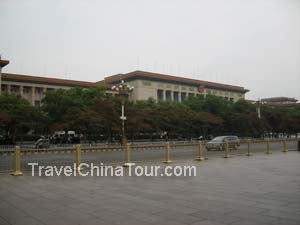 National Museum of China
Also adjacent to the Tiananmen Square is the National Museum of China. It is constructed from the merger of the National Museum of Chinese History and National Museum of Chinese Revolution. It is continually expanded to become a comprehensive museum that showcases historical, cultural, and artistic relics of China.
In 1959, the National Museum of Chinese history was moved to the current location. It holds over 300,000 items on display, including 2,000 items of first grade cultural relics. The National Museum of Chinese Revolution has over 120,000 pieces of relics dating to 1840, which introduces various events in Chinese revolution history and also documents the socialist construction of China.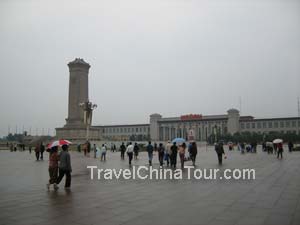 Zhengyangmen Gate Tower of Tiananmen Square (Qianmen)
Zhengyangmen Gate was one of the most important gates of Beijing. An old saying used by Beijing residents is as follows: "Nine inside, seven outside, four in the Imperial City" - which means there are 4 gates leading the the imperial city, 7 leading to the outer city, and 9 gates leading to the inner city.
Zhengyangmen Gate is located at the southern end of Tiananmen Square. It was the front entrance to the inner city of Beijing during the Ming and Qing Dynasties. It is more popularly known as "Qianmen" or "Front Gate". It comprises of a gate tower, and an archery tower. It is 42 meters tall, and was first built in 1421. It was also the largest of all city gates in Beijing City.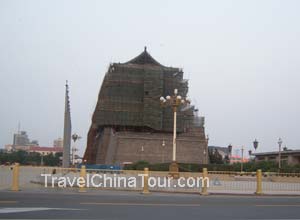 The photo above shows the Qianmen (Zhengyangmen). However, during my visit to China here, it was under renovation and reconstruction, which is why you cannot view the actual details of the gate.