Beijing city's Peking Duck is world famous for being the most delicious and delightful dish that Beijing has to offer. Like London with its fish and chips, Philadelphia with its cheese steak, Beijing is unique with its Beijing Roast Duck.
Beijing Duck is almost always a fixed menu item on any Beijing Tour itinerary. Otherwise, you've not tasted Beijing until you've tried its Peking Duck.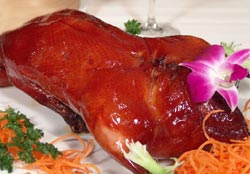 (Beijing's Famous Peking Duck)
History of Beijing Duck (Peking Duck House)
The use of ducks in Chinese cooking dates back 1,500 years. I've read mainly two conflicting sources about where Peking Duck originated. One states that Bianyifang (Convinience shop) was the earliest Beijing Duck restaurant, founded about 400 years ago, and another mentions that the modern Peking Duck was first prepared by an imperial chef during the Ming Dynasties (1368 - 1644). Both dates back about 400 some years.
Peking Duck House & Beijing Duck Restaurant
The most famous Peking Duck restaurant that offers the best tasting ducks is the Quanjude restaurant, which opened in 1864 outside Qianmen (front gate). Up to 2004, Quanjude restaurant has sold an estimated 115 million Peking Ducks, and was awarded China's 500 most valuable commodity brand award.
At Quanjude restaurant, the ducks are cooked in unique condiments and spices, and roasted directly over flames of fruit tree wood. The highest quality Beijing Ducks are date-red in color, shining with oil, and with a crisp skin and tender meat inside.
The chef then slices thin pieces of duck meat with skin. This is served with a thin pancake, green onions, and a special Peking duck sauce. Spread the special sauce on the pancake, place some duck meat and green onions on top, roll it up, and enjoy the delicious taste of authentic Beijing Duck.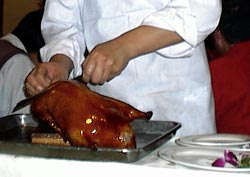 (A chef slicing up pieces of a cooked Peking Duck, ready to be eaten.)
There are restaurants that serve Beijing Duck all over the world, but to taste and enjoy the real, authentic Peking Duck, you have to visit Beijing, and try the real thing for yourself. Below are some of the top Peking Duck Restaurants in Beijing.
Peking Duck Restaurant in Beijing
Beijing Qianmen Quanjude Roast Duck Restaurant
32, Qianmen Street
Tel: 86-10-6701-1379

Beijing Wangfujing Quanjude Roast Duck Restaurant
13, Shuaifuyuan Hutong, Dongcheng District
Tel: 86-10-6525-3310

Restaurant of Peking Roast Duck
Beijing Quanjude Roast Duck Restaurant
14, Qianmen Xidajie
Tel: 86-10-6511-2418

Beijing Jingxin Quanjude Roast Duck Restaurant
A2 Dongsanhuan Beilu, Chaoyang District
Tel: 86-10-6466-0895

Beijing Hepingmen Roast Duck Restaurant
Hepingmen Dajie, Xuanwu District
Tel: 86-10-6552-3745

Bianyifang Roast Duck Restaurant
A2 Chongwenmenwai Dajie, Chongwen District
Tel: 86-10-6712-0505

Note: the phone numbers listed above, also included the country code, province code, and then the phone numbers. So for example, for 86-10-6701-1379

86 - is the country code for China
10 - is the region code for Beijing
6701-1379 is the actual telephone number
So, basically, outside of China, you would dial: 86-10-6701-1379
Inside China, but outside of Beijing, you would dial: 010-6701-1379 (0 is added in front for long distance calling)
Inside Beijing, you would just dial 6701-1379
I hope that was useful to you in some ways. =)