Although the chinese great wall spans five provinces and stretches over 6,700 km, the majority of tourist travel to Beijing to tour the Great Wall. Just in the outskirts of Beijing city, there are several sections of the great wall that are in excellent condition, and are the most popular destinations for China Great Wall tours.
These Great Wall tour destinations include:
Badaling Great Wall
Jiayuguan Pass
Jingshanling Great Wall
Juyongguan Pass
Mutianyu Great Wall
Simatai Great Wall
China Great Wall - Badaling Great Wall Tour
Badaling great wall is one of the most often visited great wall sections. Badaling means Eight Prominent Peaks. It was rebuilt during the Ming Dynasty in the 16th century. It extends all the way from Shanhai Pass (coast of Bohai Bay) to Jiayu Pass in Gansu province. Fortresses were built at strategic points, and beacon towers at commanding points. Fires were lit to signal incoming invasion from the north.
During the rebuilding in the Ming Dynasty, Badaling was rebuilt using bricks and granite stone slabs, and it still stands tall today. Badaling Great Wall measures 6.6 meters high, 6.5 meters wide at the base, and 5.5 meters wide at the top. The top surface is paved with 3 to 4 layers of bricks. Badaling Great Wall is wide enough for 10 soldiers to walk shoulder to shoulder across the pathway.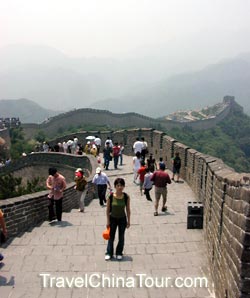 Great Wall Photo: Standing at the highest peak of Badaling and taking a picture of the Great Wall and other tourists - it was quite a breath taking view. The surrounding mountains are covered with plants and ancient trees. Planning a 2.5 to 3 hour visit is recommended.
Mutianyu Great Wall
Mutianyu Great Wall lies about 70km north east of Beijing city, winding for over 2,000 meters. Construction of Mutianyu Great Wall began in mid 6th century, and was restored during the Ming Dynasty. Unlike Badaling Great Wall, Mutianyu isn't as crowded, and received less tourists, so its a nice alternative for those who prefer to avoid crowds.
The wall is a little over 7 meters in height, and about 5 meters wide at the top, similar to that of Badaling.
Travel China Great Wall Tour Tips
While there are rail carts to bring you up to the top of Badaling Great wall, it's still physically demanding to climb the Great Wall of china - especially in mid summer at noon when the sun is up high and temperatures can go above mid 30's. (Also, taking the rail carts cost a little extra on top of entrance fee.)
Wear runners
Bring a light backpack to hold your miscellaneous articles
Bring plenty of water - while there are vendors at the entrance and exit of Badaling, there's none on top of the Great Wall, so have some water ready when you're up top
If the sun is a problem for you, bring some sunscreen lotion, or bring an umbrella - may sound silly, but many people do bring umbrellas in mid summer to block out the sun (I do too!)
Wear lose and comfortable clothing
Having some paper tissues at hand is always handy
Don't forget your camera!