The Forbidden City was the imperial palace for 24 emperors from the Ming Dynast and Qing Dynasty. The forbidden palace has an impressive defense, surrounded by 33 ft high and 3km long city walls, and encircled by 52 meter wide moat, 3.8km long named the Outer Golden River. There is also an inner moat named the Inner Golden River.
The Palace is called the "Forbidden" City because commoners were not allowed to even approach the city walls. The last Dynasty in Chinese history fell in 1911, and the last emperor Puyi (1906 - 1967) lived in the inner court of the forbidden city until 1925, at which time it was converted to a museum, and was open for public touring.
History of The Forbidden City
The Forbidden City was a grand scale construction that involved over 100,000 artisans and 1million civilians. The construction of the Forbidden palace took 14 years, and completed in 1420. It is located at the center of Beijing city, with an area of 72 hectares (720,000 meters squared), and it has more than 90 courtyards. The actual Forbidden palace is a giant courtyard rectangular in shape. The Forbidden City wall is 10m tall, and measures 961m long north to south, and 753m wide east to west. The palace has expanded several times, but the original layout was preserved.
Forbidden City Map & Tour
The Forbidden Palace is divided into two main sections: the front palace to the south, and the inner palace to the north. The outer court is where the emperor performed his governing duties and exercised his power over the nation, and the inner court is where the emperor lived with his imperial family.
The Forbidden City is arranged along a north to south axis called the Meridian Line. The palace has four outer gates: Meridian Gate to the south, Gate of Divine Might in the north, and Flowery Gate to the east and west. Because yellow is the color and symbol of the imperial family, it is one of the dominant colors. Roofs are built with yellow tiles, and most decorations are painted with yellow.
N
(Gate of Divine Might)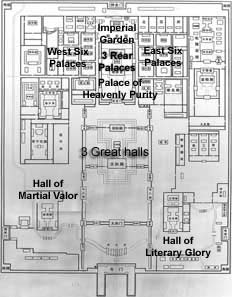 S
(Meridian Gate)
Follow us, as we take a brief tour of the Forbidden City in Beijing.