Victoria Peak in Hong Kong has the most extraordinary views of Hong Kong. It is the highest peak on Hong Kong Island and overlooks the west side of the Island. The stunning views from Victoria Peak makes it one of the most popular tourist attractions in Hong Kong. You can get a panoramic view of Hong Kong as far as the eye can see.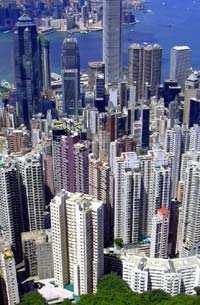 Victoria Peak Tram
The best way to get to the top is by the Peak Tram, a funicular railway which goes up a steep 373 meter high mountainside. The tracks are 1400 meters long and its about a 7 to 8 minute ride up. The Peak Tram has a long history, operating since 1888. You will enjoy breathtaking views on the ride up - have your camera ready to snap pictures of the masses of soaring sky scrappers, harbor views, and ships traversing water far off in the distance.
Victoria Peak Tower
The stunning views atop the Victoria Peak is further enhanced by the one of Hong Kong's most innovative buildings - the seven storey Peak Tower. The Peak Tower is designed by British architect Terry Farrel, and takes fullest advantage of the scenery.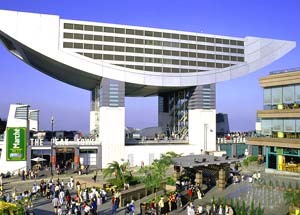 At the final stop, the Peak Tram pulls into the Peak Tower. It sits at an elevation of 396 meters and you will experience a panoramic view of the Victoria Harbor, and Hong Kong Island. Completed in 1997, the Peak Tower is a viewing, dining, and entertainment center.