The Shanghai Museum is located at the center of the People's Square. It's orginally location was built in 1952, and the museum has a collection of over 120,000 rare ancient Chinese art works including ancient Chinese paintings, bronze artifacts, ceramics, coins, and calligraphy. The design of the building itself is also unique. The top part of the building is round, and the base is a square - symbolizing the ancient belief of a round heaven and a square earth.
The Shanghai Museum was originally opened to the public in the building that was previously the horse racing club at Nanjing Road in 1952. In 1959, the Museum was moved to the former Zhonghui Building on Henan Road, and finally in 1992, the new Shanghai Art Museum was relocated to its current location - at the center of the People's Square. Construction took three years from 1993 to 1996. The new building has a display area of 39,200 square meters.
New Shanghai Art Museum Show Rooms
The Museum has eleven galleries and three exhibition halls. The Shanghai Museum is especially famous for its collection of bronze artifacts. A 1,200 square meter show room houses more than 400 pieces of beautifully decorated bronze artifacts. These give a good representation of the development of the Chinese society during the period from 18th century BC to 3rd century BC.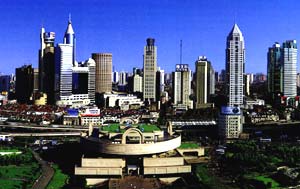 Here's a list of the many categories of exhibitions on display at the New Shanghai Art Museum:
ancient bronze artifacts
ancient Chinese ceramics
gallery of Chinese calligraphy
all types of Chinese paintings
gallery of Chinese seals
gallery of Chinese coins
Chinese ancient sculpture
jade items
furniture gallery from the Ming and Qing Dynasties
Chinese minority arts and crafts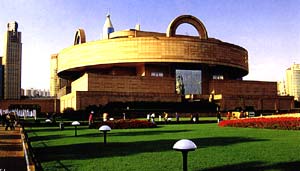 The gallery of ancient Chinese sculpture has more than 120 sculptures on display. It has sculptures from the warring states period (475 - 221 BC), buddha statues from the Northern Wei Dynasty (386 - 534), pottery figures from the Tang Dynasty (618 - 907), and so much more.
The new Shanghai Art Museum also has about 7,000 pieces of ancient Chinese coins on display. These coins are made from a wide variety of metals including gold, silver, iron, bronze, and copper. In the gallery of furniture, you will see ancient furniture from the Ming Dynasty (1368 - 1644) and Qing Dynasty (1644 - 1911).
I can go on all day about the wide variety of historical items on display at the new Shanghai Art Museum, but that would take several more pages of writing. You really have to tour the museum and see for yourself all the treasures stored there. In a nutshell, while visiting the Shanghai Museum, you will feel like you've gone back in time and witnessed first hand the development of the Chinese culture and society, and its arts and crafts.