Anyone taking a trip to China should do their best to see one of the most impressive sights in the world – the Great Wall of China. While it is not actually visible from outer space, as some urban legends would have people believe, the Great Wall, at over 4000 miles in length, is still an incredible structure that is full of history.
The wall took a long time to construct, and was built from around the 6th to the 16th centuries. Its purpose was to help repel invading hordes of barbarians, and it did a rather good job for the most part. The Wall was only breached a few times in all of its history.
You can visit a number of different portions of the Great Wall, but the Badaling Section is likely the area that receives the most visitors each year. The reason for this is its close proximity to Beijing. Perhaps the best way to visit the wall is by taking a daytrip from Beijing. You can reach the Wall in a number of different ways, from taking a tour bus, a private tour, or even just heading out on one of the public busses that runs through the area.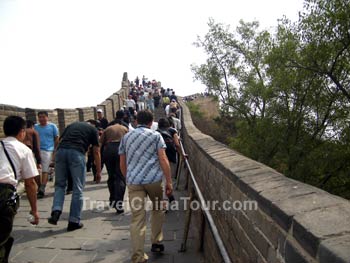 Climbing the Badaling Great Wall
The admission to this section of the Great Wall is only about $10 unless you decide to get a private tour, which is substantially more. You can even hire a private tour that will take you all the way from Beijing. This includes round trip transportation, a private driver, and a tour guide.
Two other sections of the Great Wall that are quite popular among visitors are Simatai and Jinshanling. The tourist population is not as thick in these places as it is in Badaling. Many like to hike between these two sections, but this is not for those who are in poor shape. Although the hike is less than eight miles, there are some parts that can become quite difficult. Some of the areas are steep, and the footing is not always secure. Still, it makes for a great adventure, and you get to experience a number of sights that most tourists don't.
The Great Wall is one of the most iconic places in China, and an absolute must visit for anyone who comes to the country. No trip is complete without a visit to the Great Wall. After all, it was dubbed one of the manmade wonders of the world with good reason!