The Tiananmen Square is located at the center of Beijing city. It is a brilliant symbol of confidence and self reliance of the Chinese nation, and it is also one of the most popular tour destinations in Beijing. The square itself is named after the Tiananmen Gate, which is translated as "Gate of Heavenly Peace". In ancient times, this was a forbidden area during the Ming and Qing Dynasties, and was surrounded by palace walls on all sides. During the 1911 revolution led by Dr. Sun Yat Sen, the Tiananmen Square became open to the public.
The Tiananmen Square is symbolically the heart of Beijing and China. It has a rich history witnessing several key events which shaped China into what it is today. The "May 4th Movement" began here in 1919, and the incident of March 18, 1926 and the movement of December 9, 1935 all took place in Tiananmen Square. On October 1, 1949, Mao Zedong declared the founding of the people's republic of China standing on the Tiananmen Gate tower.
About the Tiananmen Square
Tiananmen Square is the largest public square in the world with a total area covering over 440,000 square meters, which can hold up to one million people. The Monument to the People's Heroes sits at the center of the Tiananmen Square. Below is a photo of the monument.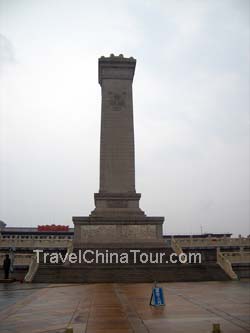 To the east and west of Tiananmen Square are the National Museum of China and the Great Hall of the People. To the south are the Chairman Mao's Memorial Hall and Zhengyang Gate.
History of the Tiananmen Square & Gate
Tiananmen Gate is a structure in traditional Chinese architectural style, located at the north of the square. It was first constructed in 1417, during the 15th year of Emperor Yongle's reign. Its original name was "Chengtianmen", meaning gate of Heavenly Succession. In 1651, under the reign of Qing Emperor Shunzhi, the Tiananmen gate tower was rebuilt and renamed to Tiananmen.
Today, the Tiananmen gate retains the basic style and look of the early Qing Dynasty gate. Tiananmen was the main entrance to the Imperial Palace (forbidden palace) during the Ming and Qing Dynasties.
Standing north and south of the gate are a pair of Huabiao which are ornamental architectures made from marble engraved with dragons and clouds. Two stone lions stand at the sides of Tiananmen Gate.

A photo showing the Huabiao and Stone Lion by the Tiananmen Gate.
Monument to the People's Heroes
The Monument to the People's Heroes stands in the very center of the Tiananmen Square. Construction took place between 1952 to 1958. It was built in memory of the people who died for the revolutionary cause. Built in the form of an obelisk, the monument is 37.94 meters tall. Its top is decorated with red stars, pine trees, and wreathes of flowers. Its sides are inscribed with writings by Mao Zedong and Zhou Enlai.