The Oriental Pearl Tower is a television tower located in Pudong Park in Lujiazui, Shanghai. It is on the Huangpu River and opposite the famous Bund. This beautiful and scenic tower, which looks as though it could be a rocket from an old science fiction story, attracts countless thousands of visitors and photographers each year. It looks particularly magical at night when it is all lit up.
At 1,536 feet in height, this third largest television tower in the world. The only towers that are taller are located in Moscow, Russia, and Toronto, Canada. It took approximately four years to build and was designed by architect Jia Huan Cheng.
The Oriental Pearl Tower has an advantage when it comes to innovative design – though it may look like a rocket ship to some Westerners, the design is modeled after a portion of a poem called Pipa Song. This poem, written by Bai Juyi in the Tang Dynasty, tells of the pipa, an instrument said to make a sound similar to pearls of different sizes falling onto a jade plate. It sits upon grassland, which helps to give the effect of a jade plate beneath the tower.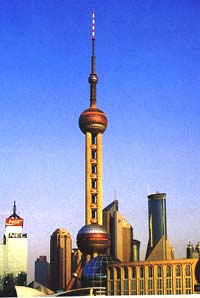 The tower is an engineering marvel supported by three large columns that begin far belowground. Eleven steel spheres of varying sizes are located along the length of the tower, strung like pearls on a necklace. While several of these spheres are merely decorative, you will find that there are tons of great things to see and do within the tower, including visiting some of the larger spheres. It is far more than just a great place to get a view of the city.
You can visit the Shanghai Municipal History Museum, which is located in the bottom of the tower, head up to one of the observation spaces, grab a bite to eat in the rotating restaurant, or go shopping for a souvenir.
The five smaller spheres along the tower are actually a hotel. In each of these spheres, you will find several hotel rooms and a suite. It is a good central location in which to stay.
While the tower makes for an interesting tourist attraction, it is also functional. It provides Shanghai with a number of television and FM radio stations. Make the Oriental Pearl Tower a stop on your vacation – or you might even want to stay there. You can't beat the view!