Guangxi province (or Guangxi Zhuang Autonomous Region) is located in the southern part of China, adjacent to the Beibu Gulf. Guangxi province borders Viet Nam to the south, has a population of about 49 million, and encompasses an area of 236,700 square meters. The capital city of Guangxi is Nanning. See map of Guangxi Province below: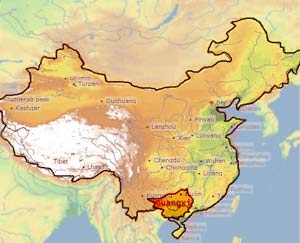 (Guangxi Map)
Guangxi is a mountainous region surrounded with splendid rivers running through the mountains. The province is well known for its beautiful river and mountain scenery, and also for the ethnic minorities that inhabit the region. Probably the most well known scenic area is the Li River. Along the 100km stretch of the Li River, mountain peaks rise straight into the sky.
Guangxi Province History
Guangxi first became part of China in 214BC during the period of the warring states, when the army of Emperor Qin Shi Huang annexed the other states, and formed the first unified China. The name "Guangxi" traces back to the Song Dynasty, which named the region "Guangnanxi Circuit". During the Yuan Dynasty, the name of the province was shortened to "Guangxi". It has since been a province of China, until the PRC converted the region into an autonomous region due to the large population of minorities - hence it has the name "Guangxi Zhuang Autonomous Region".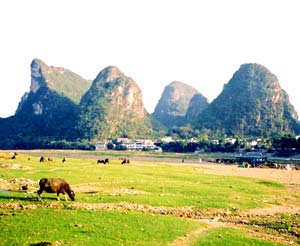 Guangxi Zhuang Tourism
Because of the large base of minority cultures, and beautiful river and mountain scenery, Guangxi is a popular tourist destination. The major attraction in the province is Guilin, with a population of about 670,000. The city is famous for the spectacular scenery of the Li River and the surrounding mountain peaks. South of Guilin is another small town Yangshou, which is a popular tour destination for foreigners. The town is surrounded by towering peaks and bordered on one side by the Li River.
Ethnic minorities native to Guangxi, such as the Zhuang and Dong, are also interesting for tourists. The northern part of the province, bordering with Guizhou, is home to the Longmen rice terraces, said to be some of the steepest in the world. Nearby Sanjiang Dong Autonomous County.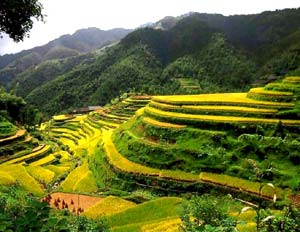 (Guangxi Rice Terrace)