Guilin Elephant Trunk Hill (Xiang Bi Shan) got its name from its shape. Located along the side of the Li River, the hill (more like a gigantic rock formation) is shaped like an elephant with a large trunk. It looks like an elephant dipping its trunk into the river for a drink. See photo below: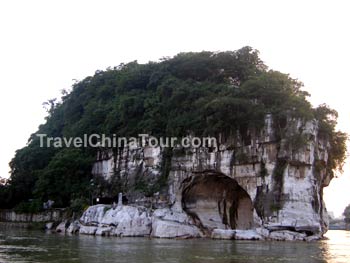 Guilin elephant trunk hill.
According to legend, this hill was really an elephant that belonged to the Emperor of Heaven, and when the Jade Emperor set out to conquer earth, the elephant was made to work too hard and became ill; however, the elephant was saved by local farmers. The Elephant was grateful and decided to stay to help the farmers. The Emperor of Heaven was furious that the elephant had deserted him, and turned the elephant into stone while it was drinking from the River.
Guilin Solitary Beauty Peak (Du Xiu Feng)
Within Guilin city, there is a place called the JingJiang Castle, which was home for some of the enthroned princes of the Ming Dynasty. This castle is located at the center of Guilin city covering an area of 6,100 square meters, and within this castle is the Solitary Beauty Peak. The peak is a tall mountain peak that is a major scenic spot of Guilin. During ancient times, this peak was referred to as the "sky supporting" pillar.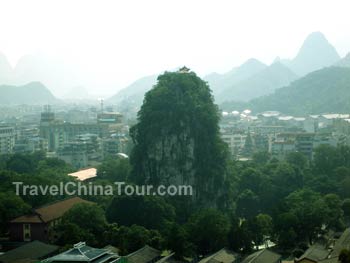 I took the above photo from another scenic spot close to city center in Guilin. As you can see, the Solitary Peak stands tall by itself in city center, and there is a gazebo at the peak. Within the JingJiang castle, there is a long history where many princes lived here before they were enthroned as the emperor, and this city was known as an emperor's birthplace. 14 princes of 11 generations have lived here. During the Qing Dynasty, the JingJiang Princes City was changed into the Guangxi provincial examination house.
When visiting the Solitary Peak and the Jing Jiang castle, visitors are put into tour groups led by a tour guide providing descriptions and explanations along the way. You can read more about my tour of the castle and the peak here.