Chongqing city became the fourth municipality of China in 1997 alongside Beijing, Tianjin, and Shanghai. Being a municipality allows the city to manage its own affairs and run directly under the central government, instead of the Sichuan province Government.
Chongqing municipality has a population of 32.4 million, and 79% (24.4 million) of the population live in rural areas. The urban population of Chongqing is estimated at 3.4 million, making it the 10th largest urban population in China. Chongqing municipality administers 15 districts, 4 cities, 21 counties, and covers an area of 82,300 square kilometers.
Map of Chongqing China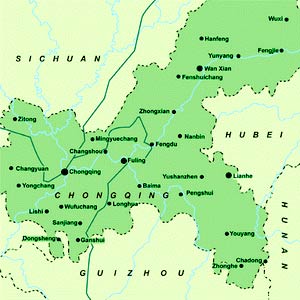 Chongqing Municipality Map
Chongqing Weather and Climate
The climate in Chongqing is semi-tropical. It has hot, humid summers, with temperatures going as high as 40 degrees Celsius (102F). It's known as one of the "three furnace cities" of China, and it rarely snows in winter. The air is foggy and polluted from the industrial plants and coal burning for electric power.
Chongqing Tourism
Because of the hills and mountains surrounding the city where buildings are built on, Chongqing has the nick name "mountain city". The central part of the city is located at the end of the Huaying Mountain and the crossing of the Yangtze river and Jialing river. The terrain altitude of Chongqing city varies as much as 220 meters with the lowest point being 160 meters above sea level at Zhaotianmen in the east, and the highest point at 380 meters above sea level at Futuguan in the west.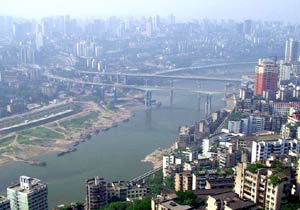 Chongqing and surrounding areas are full of tourism attractions. The most famous being the Three Gorges. Chongqing is a port city located in the upper reaches of the Yangtze River, and it is a major departure port for Yangtze River cruises, which takes you on an amazing tour of the Three Gorges.
Other tourism attractions in ChongQing include:
Dazu Stone Carvings created during the 9th century. There are more than 50,000 Buddhist, Taoist and Confucian rock carvings scattered throughout 75 major sites. The Dazu site is now listed in the UNESCO World Heritage.
The Chongqing Museum has over 40 exhibition halls and over 100,000 relics spanning 3,000 years of Chinese history.
The Residence of General Joseph W. Stilwell is another popular tour attraction. Joseph Stilwell was a chief commander of US forces during world war 2.
Whether you're interested in visiting historical and cultural heritages, taking a cruise of the Yangtze River and touring the Three Gorges, or in it for the hot, spicy and delicious tasting food, Chongqing has something for everyone.