Eating is always a big part of life in Sichuan. Everywhere you go, you will find restaurants around every corner, whether it's a nice classy restaurant, or a budget restaurant for the masses - you will find delicious food. There are so many restaurants, and the competition is so fierce that any "not-so-good" restaurant will go out of business within the first few months.
I visited my home town during the summer, and really enjoyed the food of the restaurants just down below in my uncle's condo. not surprisingly, less than 6 months later, when I went back to visit, all four restaurants there (side by side) had all changed owners, and another month later, another one of those restaurants had already closed down.
This is not to say that restaurants go out of business - the "not so good" ones do - the good restaurants are always full and packed, and often we have to wait for seats. But because of this fierce competition, you can be sure that the food is always top notch.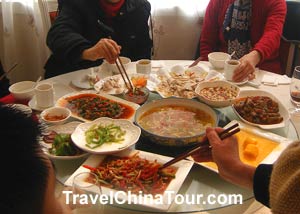 Here, we're at a somewhat classy restaurant compared to the normal restaurants you find in the streets. We had dishes such as "ten thousand years noodle" (noodles made from fish meat), spicy beef, tofu, "cross the river chicken", and more.
Interesting tidbit: In Sichuan, cold dishes are very popular, and there's a type of cold dish that's called "Cross the river" dish. What it is, is boiled meats like chicken, duck, rabbit, etc. are dipped in a spicy dipping sauce - hence it's called "Cross the River Chicken". Very delicious.
To western standards, the food is very inexpensive. Typically, cold dishes cost around $5 to $15 yuan, and hot dishes cost around $10 to $20 yuan. This is just generalizing on average food cost - a full meal for 8 to 10 people will cost around $150 to $200 yuan, which converts to about $25 USD.
Sichuan Hot Pot
Hot Pot is one of Sichuan's specialty food. There are all types of hot pots - spicy, non spicy, and with all different types of theme flavors. There are mainly two styles of hotpot that you order, either a "regular" hotpot or a "theme" hot pot such as frog hotpot, duck hot pot, mushroom hotpot, fish head hot pot, rabbit hot pot, eel hotpot, and so much more.
With the "regular" hot pots, you get the basic hot pot soup - either spicy, non-spicy, or a half and half pot. After deciding on the type of pot you want, you then order all types of foods to cook in the hotpot. You can order vegetables and meats such as beef, pork, lamb, chicken, duck, eel, rabbit, frog, fish, mushrooms, winter melon, lettuce, lotus root, tofu, rice noodles, and so much more. Generally, the hotpots are usually inexpensive, and the items cost anywhere from $2 yuan to $15 yuan.

(I'm here with my family in a Duck hotpot restaurant. We started off with two tables of duck meat hot pot, and ordered side items such as beef, lamb, mushrooms, taro root, lotus root, lettuce, seaweed, and other types of items. This meal cost me a little over $200 yuan, and there were about 14 people.)
With the "theme" hotpots, you must go to specialty hotpot restaurants that serve that theme. For example, a frog hotpot restaurant, a lamb hot pot restaurant, or a rabbit or duck hotpot restaurant. With this style, you get the main theme meat in the hot pot you order. A large pot costs around $50 yuan (more or less), and if you need additional meat, it will cost you by pound - ie. fish head hot pot usually cost around $15-$18 yuan per pound of fish head. Besides the main course in the hot pot, you can still order all types of other items as mentioned above in the same price range. A typical hot pot meal for 8 to 10 people will cost around $150 to $200 yuan. So it's very inexpensive.
Szechuan Night Food and Snacks
Sichuan offers so many varieties of snacks and late night snacks. Generally, there are certain streets in a city where all the night vendors gather, and you get a live and vibrant night market. Aside from night markets, you will also find snack food vendors all over the place. The most common and popular snack foods you will discover include: cold noodles, szechuan style jello, baked yam, all types of noodles, wontons, dumplings, street BBQ stands, and so much more.

Here's a BBQ stand at night in NeiJiang. You can see all the different types of foods on skewer on the stand.
One of my favorite is the street BBQ vendors in my home town. Each city in Sichuan will have different styles of snacks and street food, so you may not necessarily find the same stuff in different cities.

A photo of the night street with a whole lineup of snack food vendors.
You can find street BBQ in most places, but their style of cooking and flavoring will be somewhat different. The BBQ stands sell skewered food for $0.50 to $1.00 yuan each, and you can buy items such as dried tofu, ribs, beef, lamb, seaweed, Chinese sausage, mushrooms, taro root, lotus root, onions, green chilies, etc...