Guangzhou city is the capital of Guangdong Province. It is located in the southern part of China, at the mouth of the Pearl River. Guangzhou city neighbors Hong Kong and Macao, and serves as the communications hub as well as the largest trade port in southern China.
Guangzhou city covers an area of 7,434 kilometers, governs 10 districts, and is the most populous city in Guangdong with a population of about 10 million. Originally, Guangzhou had 12 districts, but 2 districts (Dongshan and Fangcun) were abolished and merged into Yuexiu and Liwan districts, respectively.
The current 10 districts in Guangzhou CN are:
Baiyun District
Haizhu District
Huangpu District
Huadu District
Liwan District
Luogang District
Nansha District
Panyu District
Tianhe District
Yuexiu District
Guangzhou Weather
Guangzhou is know as "The City of Flowers", as it enjoys mild weather all year round. The average annual temperature is 22.6 degrees celsius.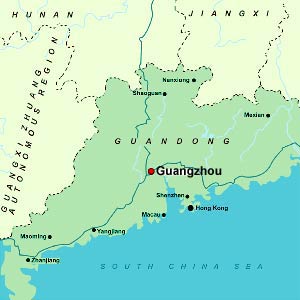 (Guangzhou Map)
Guangzhou Guangdong China History
Guangzhou city has a history of over 2,200 years. The first city built at Guangzhou city's current location is believed to be Panyu in 214BC, and it became the capital of Nanyue in 206BC. In 111BC, the Han Dynasty annexed Nanyue, and in 226AD, the city became the seat of the Guang Prefecture, or Guangzhou.
Guangzhou was one of the five ports opened by the Treaty of Nanking in 1842 at the end of the first opium war. In 1918, Guangzhou became the official name of the city. Between 1938 and 1945, Japanese troops occupied Guangzhou city. In the 1970's when Deng Xiaoping came to power, rapid economic growth took place due to its close proximity to Hong Kong, and access to the Pearl River.
Guangzhou Tourism
Temple of Six Banyan Trees - is one of the most popular attractions in Guangzhou city. The temple dates back to the 6th century, and there is also a 17 story, eight sided Flowering Pagoda (Hua Ta).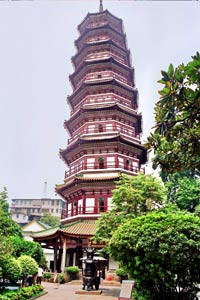 Sun Yat-sen Memorial Hall - was built in 1931 at the foot of Yuexiu mountain dedicated to Sun Yat-sen. A bronze statue of Sun Yat-sen stands inside the hall, along with records of his political achievements. The memorial hall was built at the original site of Sun Yat-sen's presidential office.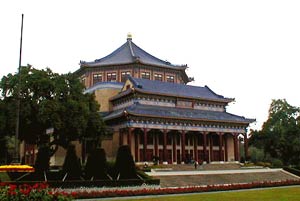 Five Immortals Temple - is located on Huifu Road west. According to legends, 5 immortals descended from heaven riding 5 goats of different colors, giving Guangzhou the nickname "Goat City". The Five Immortals Temple was first constructed in the Northern Song Dynasty.
Other great places to see and visit include:
Guangzhou City Art Museum
Yuexiu Park
Yuntai Grand Garden
Ancestral Temple of the Chen family
White Cloud Mountain