Yangshuo county is located 65 kilometers southeast of Guilin city. The county has a population of about 300,000, and is also connected to Guilin via the Lijiang Li River. Yangshuo county is a spectacular scenic region surrounded by green mountains and green streams. The scenery around it is superb. Around the Yangshuo area there are plenty of scenic spots and popular tourist destinations.
Yangshuo Big Banyan Tree
A very popular tour destination of Yangshuo is Da Rong Shu, or Big Banyan Tree scenic area located about 6 kilometers from Yangshuo. In this area, you will see a large Banyan trees that was planted during the Sui Dynasty (581 - 518)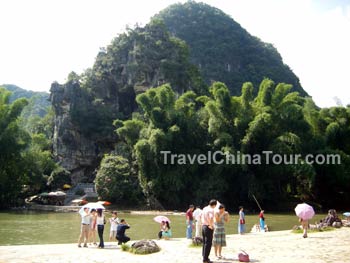 The area is simply amazing. Everywhere you look, you will see green - green waters, green trees, and green mountains. You can also take off your shoes and go dip your feet in the water. Across the road from the Big Banyan Tree is a temple where you can pick your fortune sticks. But beware, you will be asked to "Donate" money to the temple.
Yangshuo Ju Long Tan Cave
The Ju Long Tan cave (Gathering Dragon Cave) Located close to the Big Banyan Tree area. This cave has similar natural rock formation like the Lu Di Yan (Reed Flute) cave. The Ju Long Tan cave covers 900 square meters with 7 exhibition halls which exhibit over one thousand types of stones. There is a museum that you can quickly tour before entering the karst cave that contains many water reservoirs.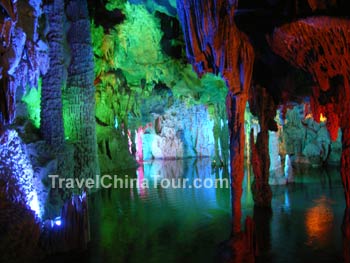 One unique aspect of the Ju Long Tan cave is that near the end, there's a large pond of water. There are boats here ready to take visitors out via the water channel. You can touch the water here, and it is icy cold. The tour of the Ju Long Tan cave lasted about 30 minutes, and even though I already seen the Reed Flute cave in Guilin, this was still an entertaining trip through the cave, and the water channel.