Mount Wuyi (武夷山 Wu Yi Shan) is located in northern Fujian province covering an area of 60 square kilometers. The Wuyi scenic area boasts thirteen springs, thirty six peaks, and seventy two caves. One of the most famous scenery is the Nine-bend stream that extends 9 kilometers. Mount Wu Yi was listed as an UNESCO world heritage site in 1999, and it is one of the most outstanding biodiversity conservation zones of China.
A popular tour destination of Mount Wu Yi is the Wuyi Canyon where tourists are able to drift along the water to view the scenery of Wuyi mountain. The canyon is 14 kilometers long, and tourists can drift along the waters for about 6 kilometers.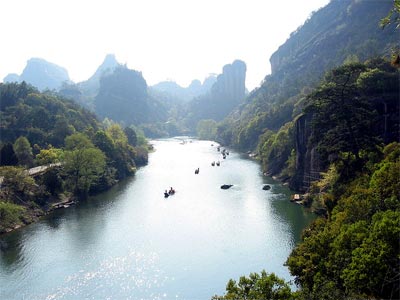 Mount Wuyi are once had intensive volcanic activity and water erosion, which led to the formation of its unique landscape. In the eastern area around the Nine Bend stream there is a large number of monoliths formed by natural erosion. The geography of the area keeps out the cold air from the northwest while retaining the warm air that comes in from the sea.
Wuyi Shan also has over 30 boat-coffins that belong to ancient Yue people from over 3,000 years ago. These are preserved in cliff caves on cliff sides of the streams. According to archaeologists, this is one of the main origins of boat-shaped coffin burials in China.
Wu Yi Tea
Wuyi Mountain is one of the most popular tourist attractions located in Fujian province. It is also one of the most famous tea growing regions in China, putting Fujian province on the map as a famous tea producer. The production of Fujian tea has a time-honored history. According to the written record found at the moment, it has a history lasting well over 1,600 years.
The earliest written record of tea production in Fujian is kept on a stone tablet at the Lian Hua Feng (Lotus Peak) in Nan'an County. The name of the tablet is "Lian Hua Cha Jin" (Lotus Flower Tea Book) inscribed in 376 A.D. In the Tang dynasty, tea sage Lu Yu in his book "Tea Classics" noted: Tea is grown south of the Five--Ridge Mountains, in Fuzhou, Jianzhou, Shaozhou and Xiangzhou.'
Fujian Province holds an important position in China producing all five categories of tea including black, green tea, oolong tea, white, and scented tea. With the exception of green tea ,all the others were pioneered in Fujian province. Lapsang Souchong (black) and white tea are Fujian Province's unique specialities.The world famous Fujian Oolong tea has been introduced to some other regions. Scented tea, especially jasmine tea, benefits from the good natural environment, producing high quality flowers and suitable tea leaves. There are 336 varieties of tea trees in Fujian province, ranking first throughout China.
There is a lot of promotion selling a so called "Wu Yi Tea" for weight loss. You may or may not have seen these internet ads. While Wuyi Shan is a major tea producer of many varieties of tea, there is actually no such tea called the "Wu Yi Tea". You can read more about the so called "Wu Yi Tea Weight Loss" here.