Du Fu Thatched Village is located in western suburbs of Chengdu Du Fu (712 - 770) was one of the greatest poets during the Tang Dynasty. He was born into a minor official's family, and acquired a wide range of knowledge since his childhood. Du Fu traveled China extensively in his youth, and settled down in Xian when he was 47. At that time, Xian was the capital city of the Tang Dynasty. Later on, he was compelled by the poverty to move to the out skirts of Chengdu in Sichuan Province.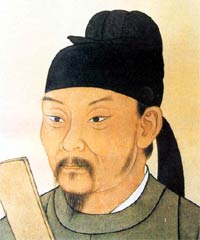 Du Fu wrote over 1,400 poems in his life time, and during his four years at the Du Fu village, he wrote over 240 poems. The Tang Dynasty was in decline during his time, and many of his poems reflects the misery and suffering of the people.
Du Fu Thatched Village Museum
The Du Fu Thatched Village Museum is a sacred land of poetry and a national treasure dedicated to one of China's greatest poets. The museum covers an area of 39.5 acres.

This statue is at the main entrance of Du Fu
Thatched Village.
At the Du Fu Thatched Village, you'll see life sized statue of the poet Du Fu. There is also a memorial hall displaying steles, stone tablets, clay sculptures, and poetry of the poet. On display in his study at the back of the cottage are over 150 copies of Du Fu poems, including some woodblock-printed texts.
Tour of Du Fu Thatched Village
There are three main entrances to the Du Fu village: the main entrance, the North gate, and the South gate. Touring from the north gate you will first find the Relic Site of the Tang dynasty going east from the entrance. The relic site was discovered in 2001, and various ceramic utensils from the Tang Dynasty was uncovered.
Heading south from the Relic site, you will reach the scenic spot of the Thatched Village. It's a very basic type of building that closely resembles what the buildings looked like back then. The village was restored in 1997 based on descriptions from Du Fu Poems, and other historical information. See photo below:

A photo of the thatched village.
Going south west from the thatched village, you will see the Shaoling Tablet, Water and Bamboo Court, which then leads you through the Wicket Gate that leads to the Hall of Poetic History. Going directly east from here, the Flower Path will take you to the Elegance Hall (Da Ya Tang)

Photo of the court yard in front of the Elegance Hall with a life sized statue of the Poet Du Fu.
Head more east from the Elegance hall, you will see the Ten-thousand Buddha Tower.

Standing in front of the Ten Thousand Buddha Tower.
When you are finished touring, you can exit through the south gate. The tour will take you about 3 to 4 hours.