Emei Shan is one of the four sacred Buddhist mountains of china. It has an elevation of 3,099 meters, and is 165 kilometers away from Chengdu. Emei shan has attracted tourists since ancient times with phenomenal views all year round. The mountain was made a UNESCO World Heritage site in 1996.
Buddhism first came to Emei Shan about 2,000 years ago, and left behind more than 30 temples. Some of the Buddhist and Taoist temples at Emi shan are also well known for training in traditional Chinese Kung Fu and Qigong.
Mount Emei is famous for its beautiful scenery. It's home to over 3,200 types of plants and trees, and half of them have medicinal value. Emei shan also has over 2,300 species of animals including the giant panda. The monkeys of Emei shan are famed for their intelligence, and ability to interact with people.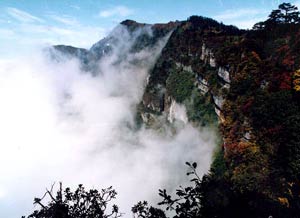 Scenic Areas of Emei Shan
Baoguo Temple was built from 1573 to 1620 during the Ming Dynasty, and was reconstructed during the reign of Emperor Kangxi (1662-1722). The Mount Emei Buddhism Association is located here, and major religious activities are also held here. The most treasured relic of the temple is a large, 2.4m porcelain statue of Buddha made in 1415.
Qingyin Pavilion is about 15 kilometers up from Baoguo temple, and has an elevation of 710 meters. It was built in the 4th century. The Black Dragon river (dark green) and White Dragon river (ivory) flow on the two sides, and merge just below the pavilion. The combined stream crash against a large rock shaped like a cattle heart and make thunderous roars that echo in the surrounding valleys and woods.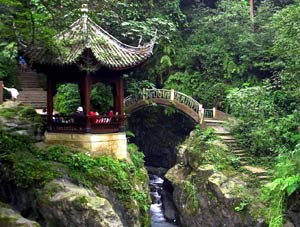 Wannian Temple (ten thousand year temple) is at an elevation of 1,020 meters. The temple was built during the Jin Dynasty (265 - 420), and is believed to be the oldest monastery on Emei Shan. Inside the temple is a magnificent bronze statue of the mountain's patron saint, Puxian (Bodhisattva of Universal Benevolence). Three disastrous fires have demolished the Wannian temple since the 10th century, and each time, the 62 ton statue was unharmed.
Golden Summit offers a magnificent view standing at the pinnacle of Emei Shan (3,077m high). Here, the visitor can see mountains and rivers from far and near. At dawn, the clouds gradually gather and redden in the east, and at the begin of the day, the clouds part, and the sun bursts forth. In the afternoon, the sun's rays penetrate the clouds and form a circle of multi-colored lights - this is the famous Emei Buddha's halo. This is what makes up the four great spectacular sights of Emei: Sunrise, Sea of Clouds, Buddha's Halo, and sunset.