The Li River is also known as Guishui River, and originates at the Mao'er Mountains in Xing'an county - northeast of Guilin. Li River flows through Guilin and Yangshuo, and merges into Xijiang River in Wuzhou. The 40 kilometer stretch of mountains on the banks of the LiJiang River between Guilin and Yangshuo display their extraoridnary beauty as a result of the development of the limestone.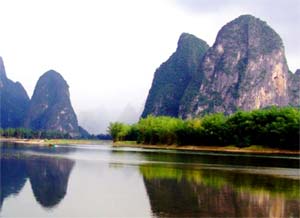 More than 40,000 hills and mountain peaks stand tall along the two sides of Li River - a truly majestic sight that stretches for more than 150 kilometers.
Li River Tour & Cruise
The 83km long waterway from Guilin to Yangshuo is especially spectacular. Taking a cruise down this section of the Li River, you will be amazed at the awe inspiring sights and picturesque scenery. At the bend of Li Jiang River down south, is a towned called Xingping, and taking a Li River cruise 13km upstream from here, you will see the most beautiful and breathtaking scenery of water and mountains.
The Li River cruise from Guiling to Yangshuo is about 7 hours long. During this tour, you will be immersed in a green paradise, and you'll forget all your worries and troubles. You will truly enjoy the serene peace and beauty of your surroundings. The mountain peaks and hills are green, the trees, plants and bushes are green, the water is green, and the reflections in the river are green - everything around you is a beautiful green color that make life seem so calm, peaceful, and enjoyable.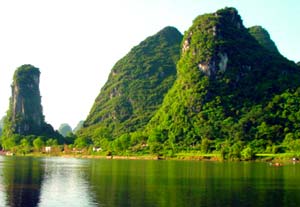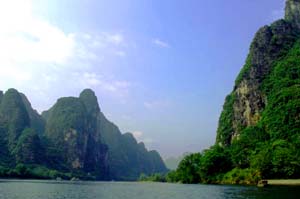 The beauty of Li River in Guilin is the backdrop in so many Chinese landscape paintings, poems, and literature. Scenes of life along the LiJiang River banks with water buffalos, bamboo boats, and more will keep you mesmerized during this unique tour. As ancient Chinese poets have said: The splendid beauty of the LiJiang River and Guilin Landscape is unmatched under heaven.
Related: