Guilin and its surrounding towns, counties, and area offer some of the most scenic tourist destinations of China. The Lijiang or (Li River) flows through Guilin city, leading to Yangshuo and then merges into Xijiang River in Wuzhou. Along the two sides of the Lijiang are mountains, trees, and cliffs - beautiful scenery that every tourist must see when visiting Guilin. The waterway from Guilin to Yangshuo is about 80 kilometers, and the distance by road is just a little under 70 kilometers.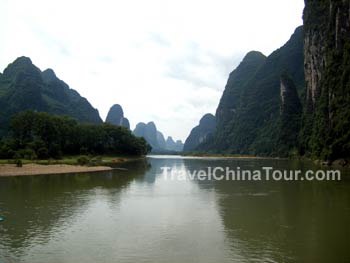 Photo taken from a cruise boat going down Li River to YangShuo
Cruises are available daily leaving early in the morning from Guilin to Yangshuo. The Li River cruises typically start around 9 to 10 am, and it takes about 4 hours to reach Yangshuo. You can read more about my cruise down Lijiang river in Guilin here:
Along the Lijiang cruise, you will likely encounter locals on Bamboo rafts that close in on the side of the cruise and latch their raft on to the side of the cruise boat. Not to worry, they're not pirates. =) They are small business men who will try to sell you souvenirs.
Guilin Reed Flute Cave (Lu Di Yan)
Reed Flute Cave is the largest, and most popular karst cavern in Guilin. The Reed Flute Cave is located halfway up to Guangming Hill in northwest Guilin. It got its name from the reeds growing outside of the entrance.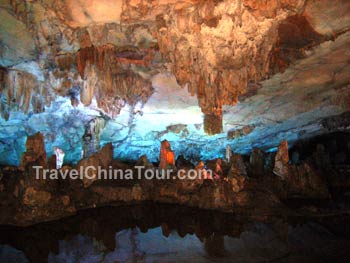 The Reed Flute Cave is a huge cavern that is a guided walk through tour. When you make your way up to the entrance and purchase a ticket, you will be instructed to wait and assigned a tour guide that leads a group of visitors through the cave. Along the way, you will see many fantastic rock and stone formations highlighted by different colored lights. Many of these formations have unique Chinese names given to them based on their shape and representation.