Huanghuoshu National Scenic Spot lies in Southwest of Guizhou Province. It's128 kilometers away from Guiyang City (provincial center) and 45 kilometers away Anshun City. Tourists can take trains or buses to tour it. The Huangguoshu Waterfall is 77.8 meters high and 101.0 meters wide. Besides this big waterfall, there are 18 small waterfalls showing their beauty. All of them form a huge waterfall group, which is listed by World Guinness Record.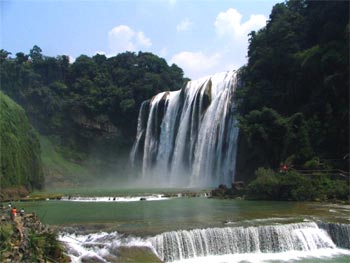 The Huangguoshu Waterfall.
Huangguoshu is the most spectacular waterfall in the waterfall group. It's the only one waterfall that tourists can appreciate from any directions in the world. It's also the only one waterfall that tourists can hear, look and touch inside and outside the cave. The famous traveler Xuxiake in Ming Dynasty had inspected it and then recorded all the things he noticed. So he was the first person in the world to describe the Huangguoshu Waterfall concretely. Maybe due to the reason, the descendants wanted to honor him, and then they carved a statue of him placed near the waterfall.
There are various other scenic spot scattered around Huangguoshu waterfall, such as Stone Camp Areas (石头寨区), Star Bridges Area (天星桥区), Dishuitan Waterfall Area (滴水潭区), Steep Pond Area (陡坡塘区), Langgong (Lang Palace) Area (龙宫区). This spot has been named as the "national popular scientific and educational basis" and "the most fascinating place in western". In 2005, the Chinese National Geographic magazine had named it as "the most beautiful place". Huangguoshu scenic spot has gained worldwide fame. It is the very place to spend a vocation, have sightseeing, breathe the fresh air and take recuperation.
Shuilian Cave lies above the Huangguoshu Waterfall about 40 to 47 meters high. This whole cave is 134 meters long with six windows of cave, five halls of cave, three springs of cave and six channels.
Going across the Shuilian Cave, there is another marvelous spectacle. Tourists can watch and enjoy the rainbow above the Rhinoceros Lake (犀牛潭). As long as the weather is fine, from nine o'clock am to five o'clock pm, people can see the rainbow.
Hongya Hieroglyphics (红崖天书) is carved on one cliff of Hongya Mountain which is about 7 kilometers away from Huangguoshu Waterfall. The cliff is light red, about 100 meters long and 30 meters high. There are more than 21 scarlet symbols caved on the cliff. But nobody really knows what they mean. Moreover, there are three representative sayings about the origin of Hongya Hieroglyphics. The first saying is that this is the Zhugeliang's relics, so it's called "Zhuge Monument"; the second saying is a monument to honor Yingaozong's achievements; the third saying is also a monument to honor a leader of Cuan Nationality (爨族). Hongya Hieroglyphics is a so wonderful and beautiful spectacular.
Tian Long Tun Bao
Today Tunbao People inhabit Anshun City of Guizhou Province. They are quite a unique group of Han People in China. Their voice, clothing, vernacular architecture and entertainments are quite different from other villages. This unique cultural phenomenon is called "Tunbao Culture". All these residences are the descendants of ancient military families. So people call them "Tunbao People". Walking in the Tian Long Town, you will find all the buildings have both the Jianghuai style and maintained so many war prints.