Jiuzhaigou is a nature reserved located in northern part of Sichuan province in China. Jiuzhaigou is a breathtaking alpine valley that was discovered in the 1970's by lumberjacks, and was officially opened to tourism in 1984. It's famous for its many waterfalls, colorful lakes, crystal clear waters, and the site was declared a UNESCO World Heritage in 1992.
Jiu Zhai Gou is about 480km north of Chengdu, capital city of Sichuan, and attracts over 1.2 million tourists from home and abroad each year. The nature reserve covers an area of 720 square kilometers, and has an elevation of 2,000 to 3,100 meters above sea level.
JiuZhaiGou Weather
The climate at Jiu Zhai Gou is a cool temperature with an average annual temperature of 7.2C. The average temperature in January is -1C, and 17C in July. Jiuzhaigou receives 66.1cm of rainfall each year, most of which takes place between may and october.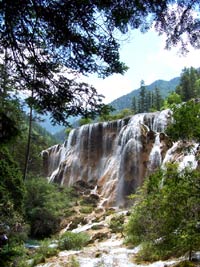 Jiuzhaigou picture - splendid waterfalls
JiuZhaiGou Tour Scenery
Jiu Zhai Gou is home to all types of exotic wild animals - Takins, large horned Tibetan wild animal; snub-nosed monkeys; and giant pandas. The most fascinating attraction of Jiuzhaigou is probably its 108 lakes - all of which has multi-colored and crystal clear water. This is also why the local Tibetan women wear 108 braids during festivals.
Jiuzhaigou is spread over a Y shaped ravine, composed of three valleys stretching for more than 40 kilometers. The Zechamingwa (Zechawa) Valley and Rizhai (Rize) Valley flow from the south and meet at the center to form the Shuzheng Valley.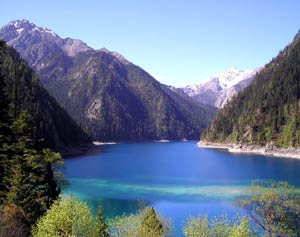 Jiuzhaigou picture.
Travel JiuZhaiGou & Tour
Most visitors that tour Jiuzhaigou will take the first shuttle bus to the end of Rizhai (Rize) Valley, and make their way back by foot on the boardwalks. Some scenic sites you will encounter at these valleys include:
Rizhai (Rize) Valley
The Primitive Forest - is a preserved ancient woodland
Swan Lake - is a 2250 m long, 125 m wide picturesque lake named for its visiting swans and ducks.
Grass Lake is a shallow lake covered in intricate vegetation patterns.
Arrow Bamboo Lake - is a shallow lake covering an area of 170,000 square meters. The movie Hero (with Jet Li) was filmed here.
Panda Lake - flows into the Panda Waterfalls.
Pearl Beach - is a wide and gently sloping area covered in shallow flowing water that flows into the Pearl Waterfalls.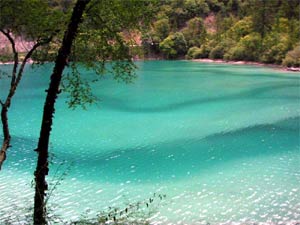 Jiuzhaigou photo - crystal clear water
Zechamingwa (Zechawa) Valley
Long Lake - is the highest, largest and deepest lake at Jiu Zhai Gou. It measures 7.5km long, and 103m deep.
Five Color Pond - is one of the smallest body of water at Jiuzhaigou, but it has one of the richest colored underwater landscape with the most clear water in the area.
Shuzheng Valley
Nuorilang Falls - is 20 meters high and 320 meters wide, and is one of the key sites of Jiuzhaigou.
Nuorilang Lake - is a series of stepped ribbon lakes formed by passage of glaciers.
Sleeping Dragon Lake - has a depth of 20 meters. There is a calcareous dyke running through it shaped like a dragon lying on the bottom.
Reed Lake - is a reed covered marsh with a clear brook zigzagging through it. The contrast is especially noticeable in autumn when the reed turn yellow.