Guilin is another one of China's must see cities. It's one of the most popular scenic cities, attracting over 11 million tourists each year. With a history of over 2,000 years, Guilin is renowned for its green mountain peaks, bursting rock formations, and winding rivers.
Guilin city has a population of 670,000, and is situated in the northeast of the Guangxi Zhuang Autonomous Region (Guangxi province) on the west bank of the Li River (Li Jiang). The city boundaries was recently increased, and Guilin has an area of 27,800 square meters. The establishment of the new city was approved by the State council in 1999. This further strengthens Guilin's status as a tourist city, and promotes more economic development in the entire region. The expansion provided better opportunity for the city to optimize tourism infrastructure, and improve tourism services.

Brief Guilin History
The earliest beginnings of the city dates back to 300's BC when small settlement was first established along the banks of the Li River. During Han Dynasty in 111BC, Shi An County was established here, and is regarded as the founding of the city. Few hundred years later in 507AD, the town was renamed to Guizhou.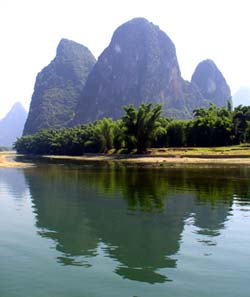 (Guilin Picture)
During the Ming Dynasty, Guilin became the capital city of Guangxi Province; however, in 1914, Nanning city was designated as the capital city of Guangxi. In 1981, the city was listed as one of the four cities for the protection of historical and cultural heritage, along with Beijing, Hangzhou, and Suzhou.
Scenic Sights of Guilin City
Almost everywhere you go in Guilin, you will enjoy a picturesque surrounding of mountain peaks, and rivers. The local geography is typical Karst Formation (landscape of distinctive dissolution patterns often marked by underground drainage). The city is surrounded by scenic mountains such as Elephant Trunk Hill, Diecai Hill, Seven Star Cave, and Yaoshan Mountains. It sits on the west bank of the Li Jiang River. Along the Li River are packed with mountain peaks reaching for the sky.nn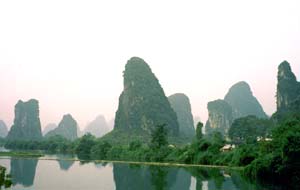 (Guilin Photo)
A well known poet in the Tang Dynasty named Han yu (768 - 820) wrote a poem praising the beauty of Guilin's landscape, and can be roughly translated as:
The river forms a green ribbon,
The mountains are jade hairpins.
The translation doesn't do much justice for the original poem in Chinese, but it's about as close as it could get in terms of meaning. It is said that since ancient times the landscape of Guilin is second to none. The great poet Fan Chengda (1126 - 1193) wrote:
The sights of Gui Mountains should be ranked first under heaven.
Guilin is famous for four unique aspects:
Enchanted mountains
Lovely waters
Fantastic caves
Charming rock formations
Along with this, Guilin is famous for four excellences:
Deep ponds
Dangerous shoals
Flowing springs
Torrential waterfalls
Related: