Guilin is possibly the most beautiful and scenic place I've been to. From the moment I got out of the airport to the moment I arrived at my hotel, all there was to see was beautiful scenery everywhere. Anywhere you go in guilin, you will see green mountain peaks, trees, and green water, it's a no wonder that the Chinese have a saying "Guilin San Sui Ja Tian Xia" or "the mountains and waters of Guilin are the most beautiful under the sky".


My plane arrived in Guilin around 10:30 in the morning, and it had just rained that day. Like Xian weather, Guilin is very hot in the summer as well; however, unlike the dry heat in Xian, Guilin is extremely humid, probably because it's surrounded by water everywhere. The air was so damp that without sweating, my clothes were sticking to my body.

Felt like I was in a perpetual sauna. :)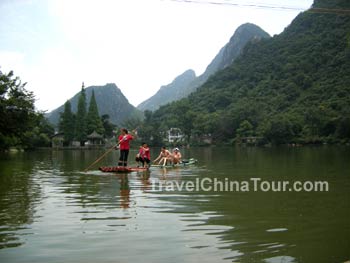 Despite the humid heat, I was thoroughly enjoying my 1st visit to Guilin. The scenery is absolutely stunning. If you ever visit Guilin, you'll notice that there are no tall buildings in guilin - this is because there are hills, mountain peaks, lakes and rivers all around Guilin, and it has been a policy to not obstruct the scenic views in Guilin. So, there are no skyscrappers in Guilin.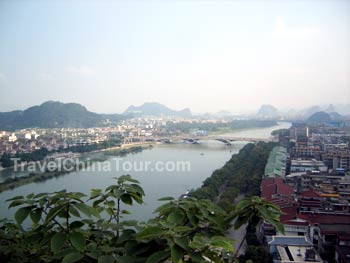 This photo was taken on top of one of the mountain peaks in Guilin. As you can see, the city in the photo has no tall buildings. The entire Guilin city is built of only low rises that's immersed in mountains and lakes