The Tomb of Hairui is located in western region of Haikou city - it took us about 15 minute taxi ride from city center. Despite the few tourist attractions Haikou has to offer, I thoroughly enjoy our tour of the Hairui Tomb. It was very well kept, clean, and as you enter the area, you feel a sense of tranquility and peace in the air. The area is also filled with beautiful scenery.
The Tomb of Hairui is a key national cultural protection area, and is one of the more popular tourist attractions of Haikou. After entering the area, you will see rows of palm trees and lotus flowers in the pond. At the end of the entrance path, you will see the Tomb of Hairui with an incense burner in front of it.
The Tomb of Hairui was built in 1589 during the Ming Dynasty. It covers an area of over 4,000 square meters. Hairui was a famous official during the Ming Dynasty, who was known as Hai Qingtian, meaning "incorruptible official". Hairui (1514 - 1587) was born in Hainan Island. His honesty and fairness as an official earned him the people's recognition.
As you follow the entrance path you will come up to a tortoise carrying a large slab of stone stele on its back with Chinese carvings. There is also a small incense burner in front of the tortoise. See photo below: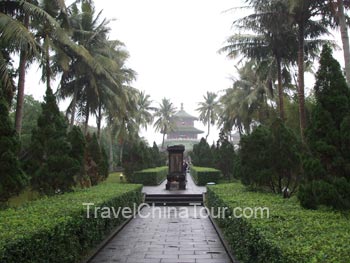 Path leading to the Tomb of Hairui with tropical plants and rows of palm tress on the two sides. It was raining that day when we visited.
The path continues after you pass this stone stele, and about 50 feet down the path, you'll come up to the tomb of Hairui. The tomb itself is surrounded by white granite. It's 3 meters tall and west facing. In front of it is a large stone plaque with a large incense burner.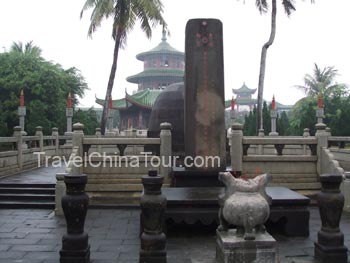 The Tomb of Hairui.
Some distance behind the Tomb of Hairui is a large pavilion surrounded by a small pond with lotus flowers. Following the path to the right of the pavilion, the tourist will come up to a long winding corridor that climbs the small stone formation that goes around the outer perimeter of the tomb. Following this, you will come to the left side of the pavilion. From here, you can visit the pavilion if you haven't already done so, or exit through the path which you entered from.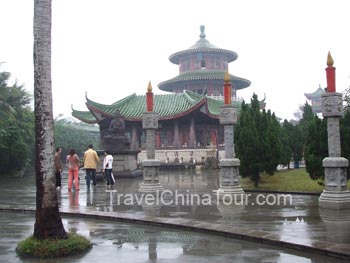 The pavilion behind the Tomb of Hairui.