From here, I took another boat ride which cost around $10 yuan to cross West Lake, and headed north to the scenic area of the Hall of Dispelling Clouds, and Tower of Buddhist Incense (Paiyun Dian, Foxiang Ge). At the docks, we came up to the famous Marbel Boat (Qingyanfang), which is 36 meters long, and built entirely of hug stone slabs. The original marble boat was built in 1755, and was destroyed in 1860 by Anglo-French troops, and in 1894, Empress Cixi rebuilt it and named it Qingyanfang.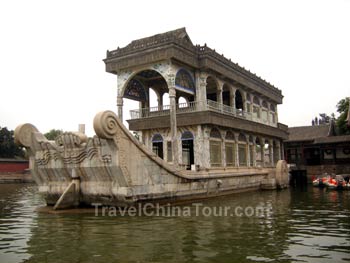 A photo of the 36 meter long Marble Boat.
Heading east, following the path along West Lake, I came up to the Endless Corridor. The long corridor is a colorful gallery filled with paintings and decorations. The beams are painted with pictures depicting a wide range of subjects, and many of the paintings tell about history, and show historical figures. When I visited Summer Palace in 2005, the corridor was still open to the public. However, this year, due to the upcoming 2008 Beijing Olympics, many popular tourist attractions in and around Beijing city were being heavily renovated. This time, the Endless Corridor was closed off, and the entire structure was being renovated, and repainted.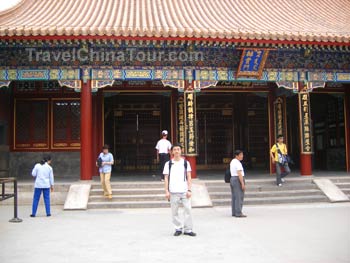 A photo taken infront of the Hall of Dispelling Clouds.
Another 15 minutes or so walk down the path, I came up to the Hall of Dispelling Clouds, and Tower of Buddhist Incense (Paiyun Dian, Foxiang Ge). Unfortunately for me, the Hall and the entire building is also under extensive renovations for the 2008 Beijing Olympics. Luckily, the front gate was fully renovated, and repainted. As you can see in the photo above, the colors are bright and vibrant. However, visitors were not allowed to enter due to on-going renovations inside.
This scenic area covers an area of 20,000 square meters with an assortment of palaces, towers, pavilions arches, and walkways. This entire area with the Temple of Immense Gratitude and Longevity in the center, was built during Emperor Qianlong's reign.
Continuing east down the path, I was headed toward the eastern exit of Summer Palace, but not before I got a photo of myself with a statue of Kylin (Qilin), which is an auspicious legendary animal that had the power to punish evil and repel the wicked.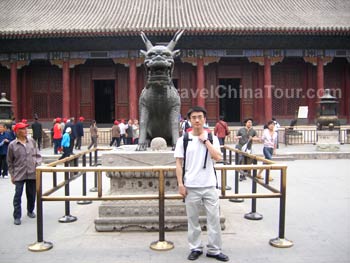 A photo taken at the east entrance courtyard of me and a statue of a Kylin.
After spending a little over 3 hours in Beijing Summer Palace, it was already past 6pm. I exited through the east entrance, and headed out for dinner.