After the visit to the wax museum, we were on our way to the Great Wall of China at Badaling. Badaling Great Wall is about an hour drive from Beijing city – slightly further than the JuYongGuan Great Wall.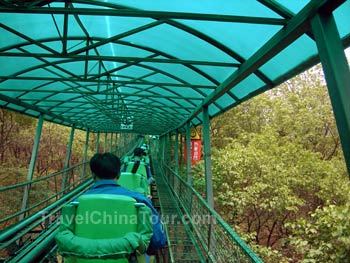 A photo of the rid to the top of Badaling Great Wall.
You can read more about the Great Wall of China in more detail in these Beijing Travel Guides:
Great Wall of China
Badaling & MuTianYu Great Wall
JuYongGuan & Simatai Great Wall
Badaling is a much more popular and much more crowded attraction compared to JuYongGuan Great Wall. Having arrived at Badaling, we purchased our entry ticket ($45 yuan), and also a lift ticket for the rail cars ($60 yuan), which takes you all the way up to near the top of Badaling, where you will have to climb the remaining towers by foot.
Once you reach the top there's a series of winding steps you take. At this point, you're about 3 or 4 towers away from the highest point of Badaling. During peak season, Badaling great wall is very crowded. At this time of the year, there are still many tourists, but not nearly as bad as peak travel season.
Top of Badaling Great Wall
Climbing from where you get off the ride up to the highest tower will take around 30 to 45 minutes. The great wall winds and curves along the mountain peak, and some sections of the climb are very steep, and can require some physical fitness and endurance It would be wise to bring plenty of water with you, wear runners, and bring an umbrella or wear a hat to block out some of the scortching sun.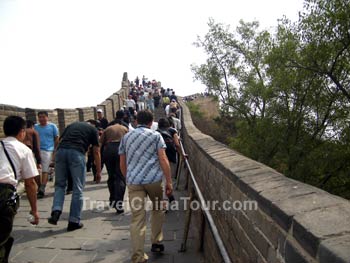 As you can see from this picture, there are many tourists
althought not overly crowded, and the climb here is very steep.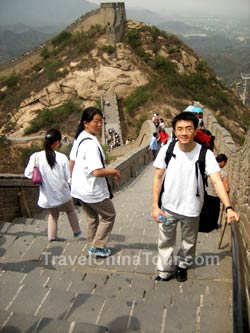 A picture of me near the very peak of Badaling great wall. If you look far in to the back ground, the great wall section there is broken, and the tourists take an alternate path from the lower tower up to this highest tower.
Summer time in Beijing can be very hot. At this time of the year (late may), it's not as bad, but the weather in Beijing was still a scortching 34 dgrees celsius. I highly recommend carrying a big bottle of water with you as you climb the Great Wall. After we toured Badaling, we were headed on the way to the Ming Tombs. On the way back, we passed JuYongGuan Pass once more and took a few photos outside. It's similar to Badaling, and we didn't feel like doing any more climbing for the day.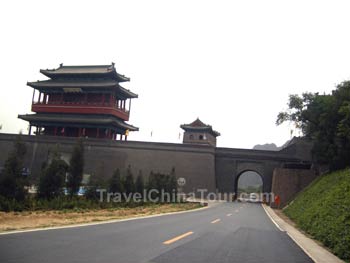 A photo of JuYongGuan, and the highway that passes through the Gate.