When I first arrived at Sanya, my first impression of the city was "wow, what a beautiful city". The city is very well kept and maintained. Every several blocks you will see public workers cleaning the streets, and watering the trees, plants, and flowers.
Beauty – Sanya is probably one of the most beautiful cities I've been to in China – comparable to the beauty of Guilin and Yangshuo, except in completely different ways. Guilin is filled with green mountains and green rivers flowing through it. Sanya is surrounded by beautiful ocean, and the city is covered with green tropical plants and trees.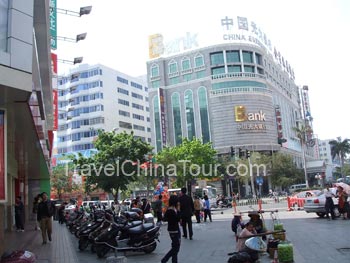 Sanya China.
I don't believe I've seen a Chinese city with so much green around the city (other than Guilin and Yangshuo). However, I think Sanya is more clean compared to Guilin, and it's probably one of the cleanest and unpolluted cities I've seen in China. Everything around the city is so well maintained. The tropical trees and plants are actually a bright green color, whereas in other Chinese cities, the plants and trees are a grayish, blackish green color from the build up of pollution, dust, and whatever other guck is in the air. Sanya is not like that. All the trees and plants are a bright, appealing green color, and every several blocks, you will see public employees watering the plants and trees.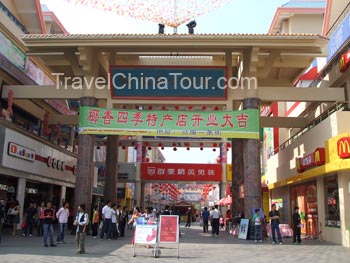 A shopping district right beside the central Sanya bus station.
Air – The air in Sanya is also very clean and fresh, unlike most other cities in China. I almost felt as if I was breathing in fresh, clean Vancouver air. The sky is also clear blue – smog is no where to be seen.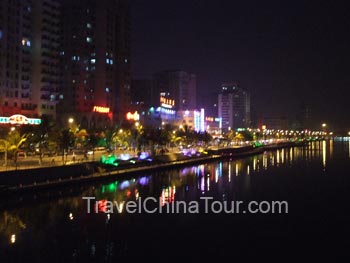 Sanya night scenery.